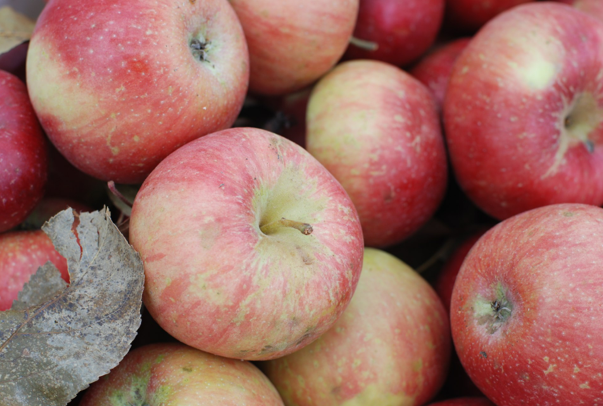 On a lovely fall day a few weeks ago, my foodie compatriots Molly McNeil and Meighan McGuire helped me make a big batch of Apple Sour Cherry Cider.  I've recently become fascinated with preserving food by making booze.  I find cider to be particularly interesting because after the prep, the yeast (tame or wild) does all of the work for you. 
I've read numerous articles on cider and perry (pear cider) making, both American and British, and it is truly an age-old art form.  Tart apples and sour cherries are two of my favorite cooking fruits, so making them into an alcoholic beverages seemed the right path, particularly because both are grown locally in Minnesota.  What better way to enjoy a season's harvest than in your glass?
I met up with Meighan and Molly to buy 16 pounds of tart apples at the Kingsfield Farmers Market in South Minneapolis.  Our beautiful Haralson apples came from Havlicek's Orchard in Webster, Minnesota, who sells at farmer's markets and has a pick-your-own operation.  The 10 pounds of sour cherries were picked in June and frozen.  They came from Molly's uncle's orchard, Minnesota Peach.  What a match up!
The overall process of making the cider was pretty simple.  We cored and shredded the apples, blended the pitted cherries, dumped it all in a bucket, tossed in some yeast, sugars and water and put on the top.  I don't have a fruit press, so this was my solution for dealing with the fruit.  I think it's going to work out just fine.  Our bucket of cider "must" started to ferment in under 24 hours and two weeks later, it's ready to "rack" off into a secondary fermenter to mellow out a bit before we get back together and bottle it.  Of course it also takes a lot of patients. But the idea of ready-made bubbly booze sitting in my basement just makes me happy.
After we finished making our batch of cider, Molly and Meighan helped me to bottle a test gallon of cider I'd made a month ago, so we could try out the equipment.  Bottling is also simple, if tedious.  You add a little extra sugar to the batch to get your yeast going again (sometimes you need to add more yeast as well), then you put the cider into pressure proof beer bottles and apply new caps.  The yeast then produces carbon dioxide, which is trapped by the bottle and absorbed back into the liquid.  Viola!  Natural carbonization.  See, the yeast does all the work.  Except the bottling.  If only the yeast would bottle it for me. Thank you Molly & Meighan for the help & the photos!