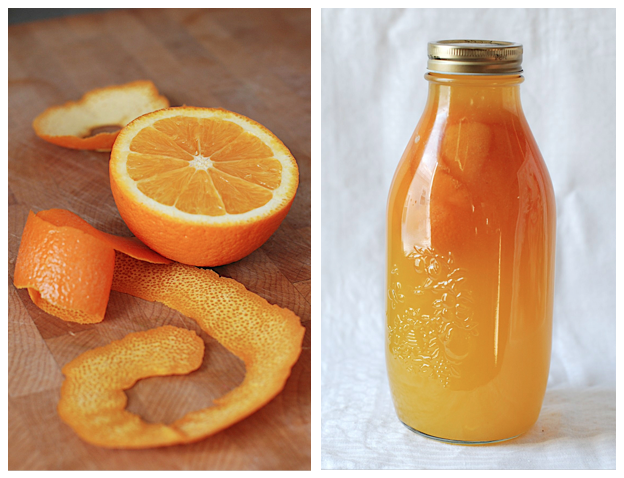 I am very picky about oranges.  Since the 1920s my extended family has lived in California's Central Valley in and around the city of Fresno.  Orange trees were in their back yards.  Every year at Christmas the trees would start to fruit, which was exactly when we would visit.  I recall those oranges being intensely sweet and sour, with firm flesh and few seeds.  I've loved oranges ever since, but in recent years, I have noticed that modern varieties are less sweet and tangy, and frequently become dry and mealy. Where are the oranges of my childhood?  
Then last week a foodie associate of mine asked me if I'd like to do a *paid post using this limited edition orange called the Heritage Reserve™ Navel.  She said they were from this old grove of orange trees and that the oranges had really great flavor.  "Sure," I said.  "Why not?"  Even an average orange makes pretty good marmalade if you throw in some lemon juice.  I was sure I could come up with something fun to do with an orange.  But secretly, my orange expectations were low.
A case of Heritage Reserve™ Navel Oranges arrived the next day from Lo Bue Brothers Citrus company.   The bright orange fruit looked great.  And then I tasted it.  That orange took me right back to childhood!  Sweet, acidic and firm fleshed, with very fragrant zest, this navel orange was the real deal.  I immediately looked up the background on these oranges.  And what do you know?  They are from the Central Valley, right at the foot of Sequoia National Park, very close to where my whole family is from.  The orchard has trees in it that range in age from 54 to 118 years old, with the first trees being planted in 1896 with the original "Washington" variety, which came to California in 1870s.
Even though these oranges had to travel all the way to Minnesota, I'm so glad that they landed on my door step.  Since good citrus only comes once a year, I want to create a recipe to preserve the great orange flavor for the summer. So I created a recipe for Orange Liqueur, also known as Triple Sec, made with the juice and peel of these navel oranges.  And since Orange Liqueur is most notably used in margaritas, I've developed a recipe for a Triple Orange Margarita cocktail to put the orange celebration over the top.
Follow this link to find Heritage Reserve™ Navel Oranges at a store near you.  Get them before they are gone!
*Please note that while I have been paid for this post, the opinions and recipes are all my own.