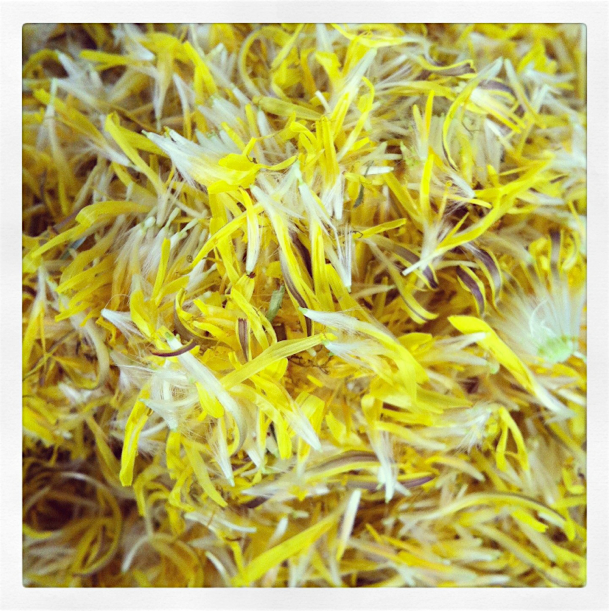 Dandelions are everywhere.  Every year I plan to make dandelion wine and every year I miss my chance.  So this year I made a last minute mad dash to forage the yellow blooms before the summer heat took over, but I only had 4 cups of petals, not nearly enough for a proper batch of wine.  So I made a shrub instead. My gin and tonic will never be the same.
I am constantly looking for new ways to preserve seasonal fresh foods.  Shrubs pop up in my research again and again.  A shrub is vinegar sugar syrup that captures the essence of fruits, vegetables and herbs in their prime, for use later to the beverage know as "Shrub."  Also known as "Drinking Vinegar," shrubs were very popular in colonial American times, where they were mixed with water to make a cooling summer pick-me-up.  Shrubs are also lovely mixed as cocktails, teas and sparkling water, or consumed alone as an potent aperitif.  If you make them with raw, naturally fermented vinegars, they are loaded with active probiotic cultures which are good for your digestion.  At least that's what I tell myself when I mix up a shrub with gin.
Making a shrub syrup is easy!  Mix equals part sugar, raw vinegar and water, then pour over your fruit, veggie, herb or edible flower of choice.  Let the syrup infuse to desired strength, then strain.  Shrub syrups are bright when young, but better with a little age, when the organics dissolve and bloom in flavor.  My dandelion shrub tastes more like the flower a month later than it did when I first made it.  So grab your seasonal produce and get busy before it's all gone.