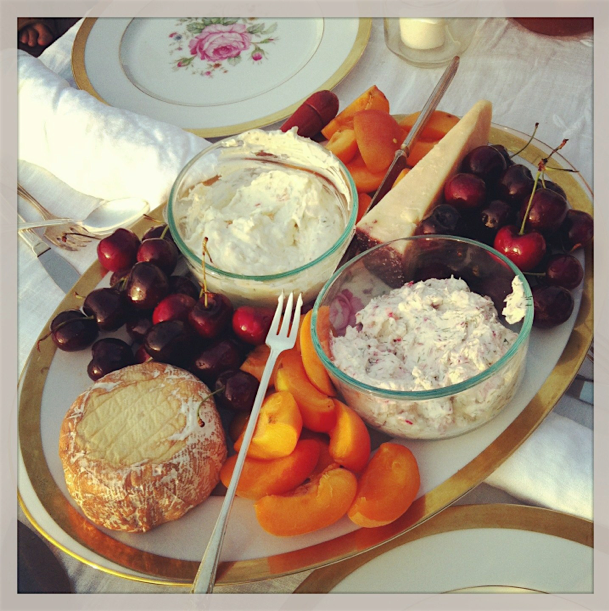 The party of the summer season is the underground Dinner in White.  The Dinner in White (Dîner en Blanc) began 25 years ago in Paris as an upstart flash mob that took over public spaces (without permission), throwing a fabulous fete filled with elegant diners dressed in white, feasting and drinking under the stars.  They were way ahead of their time. 
Fast forward to today, where these dinners popup in cities all over the world.  The Minneapolis event was a magical mid-summer affair located in the modern sculpture garden of the Walker Art Center.  Fantastic food, beautifully decorated tables and lovely, gracious people were the order of the day.  My contribution to our table's feast was a delicious cheese tray, including a handmade, French-inspired cream cheese with radishes, butter and dill.  It seemed like the perfect way to pay homage the original Paris event. Trés bon!
Making homemade dairy products is a pretty routine thing at my house, but this was the first time I've tried my hand at cultured cream cheese.  The process is way easier than yogurt.  You bring milk & cream to room temp, add your culture, a wee bit of rennet and then let the milk sit overnight.  Strain the curd through fine cloth and violá, cream cheese.  The flavor is much fresher than store-bought varieties and you can really taste the "cow" in the mix if you use good milk. From there the flavor possibilities are endless. You can add herbs, spices, fruit or vegetables to create unique cheese spreads for any occasion.  Bon appétite!
Special thanks to the guest photographers Michael Boeckmann & Jolie Nichols!