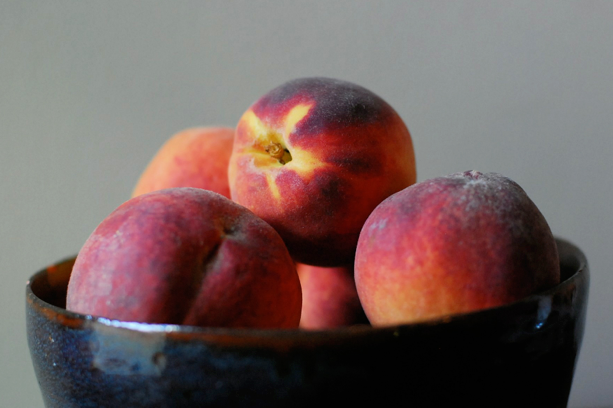 My dehydrator has been working overtime this summer preserving all sorts of fruits and vegetables.  Colorado Peaches just showed up in my local market and I grabbed a bunch.  But fresh peaches don't last long.  My daughter likes packing them in her lunch, but they bruise easily.  I've been meaning to try making fruit leather and these peaches looked like the perfect opportunity.
About the same time, I was asked by Yoplait to incorporate their new premium yogurt into one of my blog posts.  You know I'm all about homemade, DIY, so-easy-you-should-make-that-at-home kind of person?  That makes this sponsorship thing an interesting challenge.  They want to pay me for my blogging, which is fantastic, but I'm not about to promote a product that doesn't meet my standards.  I'm looking for quality products with no artificial flavors, high fructose corn syrup, preservatives, dyes, or other junk.  So Yoplait has a new brand called Yoplait Fruitful, which they smartly have made with real yogurt, real fruit and regular old sugar, no HFCS, no artificial flavors or preservatives.  That's pretty minimal for a commercial brand.  They sent me some free samples to play with.  The yogurt is pretty good.  I'd consider it a quality treat.
And then it hit me.  I wonder if you can dehydrate yogurt?  And guess what?  You totally can.  Who knew?  Apparently when you dehydrate yogurt is gets this taffy-like quality, which sounds just like fruit leather.  Mashup!  So I tested some versions and came up with a combination that let's the fresh peaches sing while adding yogurt goodness to the mix.  The best part is that I dehydrate everything at 115 degrees, which is the same temp that you culture yogurt at.  That means that the beneficial yogurt bacteria are still alive (asleep, actually) in the fruit leather.  Eureka!  The recipe below is painfully simple and can be made with the Yoplait or with regular yogurt and honey.  You decide.  But if you want a 30¢ off coupon to try Yoplait Fruitful yogurt, just click here.  They just released it in the Midwest, so here's their product finder on their website.