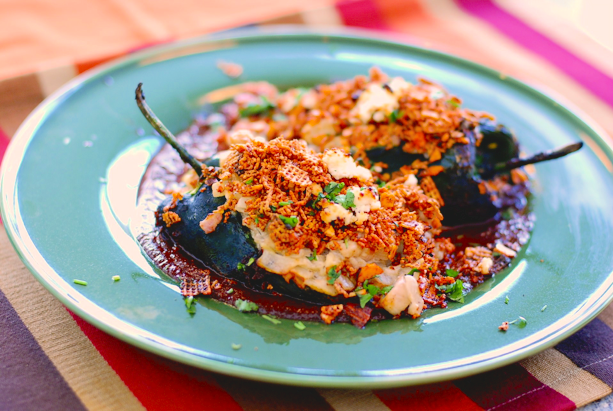 Along with a bumper crop of tomatoes this year, we grew lots and lots of peppers. This month I'll be running down a number of ways to preserve your pepper harvest, from roasting and drying to fermenting hot sauce and crafting sriacha.
Drying chile peppers is a great way to preserve them for use in mole, chile powder, pepper flakes and seasoning mixes. Depending on the type of chile, you typically let the peppers turn red before drying them. Cayenne, thai dragon, and ripe jalepeños all dry beautifully when red. Some chiles turn dark green/brown when ripe, like pasillas or poblanos. If your chiles are still green, try putting them in a paper grocery bag on the countertop for a few days to ripen them further, which adds a little more sugar to the flesh.
To dry large or thick-fleshed chiles, lay them on a rack in your dehydrator and dry them at 115 degrees until crisp dry. Store them in a dark cool place in a jar or ziplock bag. You can also dry your chiles in the oven on it's lowest setting with the door cracked open. Spread them on a cookie sheet and dry the chiles overnight. If the chiles are still moist, you may need to store them in the freezer. To dry small, thin skinned chiles, I do like to thread them through a needle onto a string, then hang them in my warm kitchen to dry. They make lovely kitchen decorations. When I need a hot chile or two, I just break them off the string.
I recently had the pleasure of creating a fantastic mole from dried chiles in the Betty Crocker Test Kitchen at General Mills Headquarters here in Minneapolis. A small group of bloggers were invited to be part of National Cereal Week. The innovative team at Hello, Cereal Lovers got the idea to ask nationally known chefs and bloggers for their innovative ideas for cooking with cereal. And we're not just talking Chex Mix or sweets. There are things like boozy cocktails, duck confit and chilaquiles! Get the recipes here. I created a dried chile cherry mole sauce for roasted poblano peppers, stuffed with chicken and goat cheese, topped with toasted smoked paprika Corn Chex. I have to say, it was really good. I'm not much of a cereal lover, but using cereal as a crunchy textural component really made this dish. Yum!