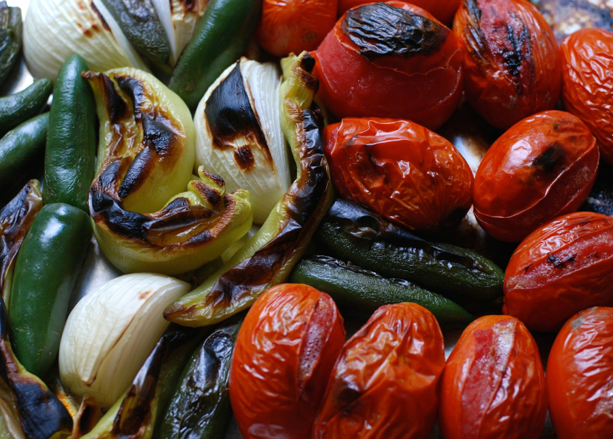 I am swimming in tomatoes. There are crates of tomatoes stacked like condominiums in my kitchen, boxes and boxes of tomatoes on the floors and counters, fruit lining every surface. Just when I think I've processed my last lug, my partner shows up with a new crate from the garden. Damn my tomato obsession! I know I'll be happy about it in February, but right now, I'm just treading tomato juice.
Here is part one of a series of ways to put up tomatoes. These posts will be pouring out over the next few weeks as I boil, roast, dry, ferment and otherwise preserve my ridiculous bounty of this years tomato crop. First up is a deeply flavored roasted garden salsa. The ingredients are a mixture of my garden plum tomatoes and banana and jalepeño peppers, combined with fresh onions and garlic from the farmer's market. Roasting the vegetables gives the salsa a caramel richness. You can roast under the broiler or on your bbq or grill.
If you want a thick salsa, use plum or paste tomatoes. If you like a thinner salsa, use heirlooms slicers or beefsteaks, any color or flavor combo you like. Feel free to change up the types and colors of peppers too, mixing the sweet and the hot to suit your taste. Poblanos have that great deep flavor, especially when roasted. Sweet red and orange peppers mixed with a few habaneros make a tasty tropical salsa. The only rule is that you DO NOT CHANGE THE RATIO of tomatoes, peppers, onions/garlic and vinegar. This recipe has strict proportions to keep it safe for canning, as everything but the tomatoes are low acid vegetables which can harbor botulism. As long as you keep the total weight for each item the same and use the vinegar, you can vary the kinds of each produce. Weigh your vegetables after you roast and trim them for the best results. And have fun with it! You can easily create a signature garden salsa of your own.