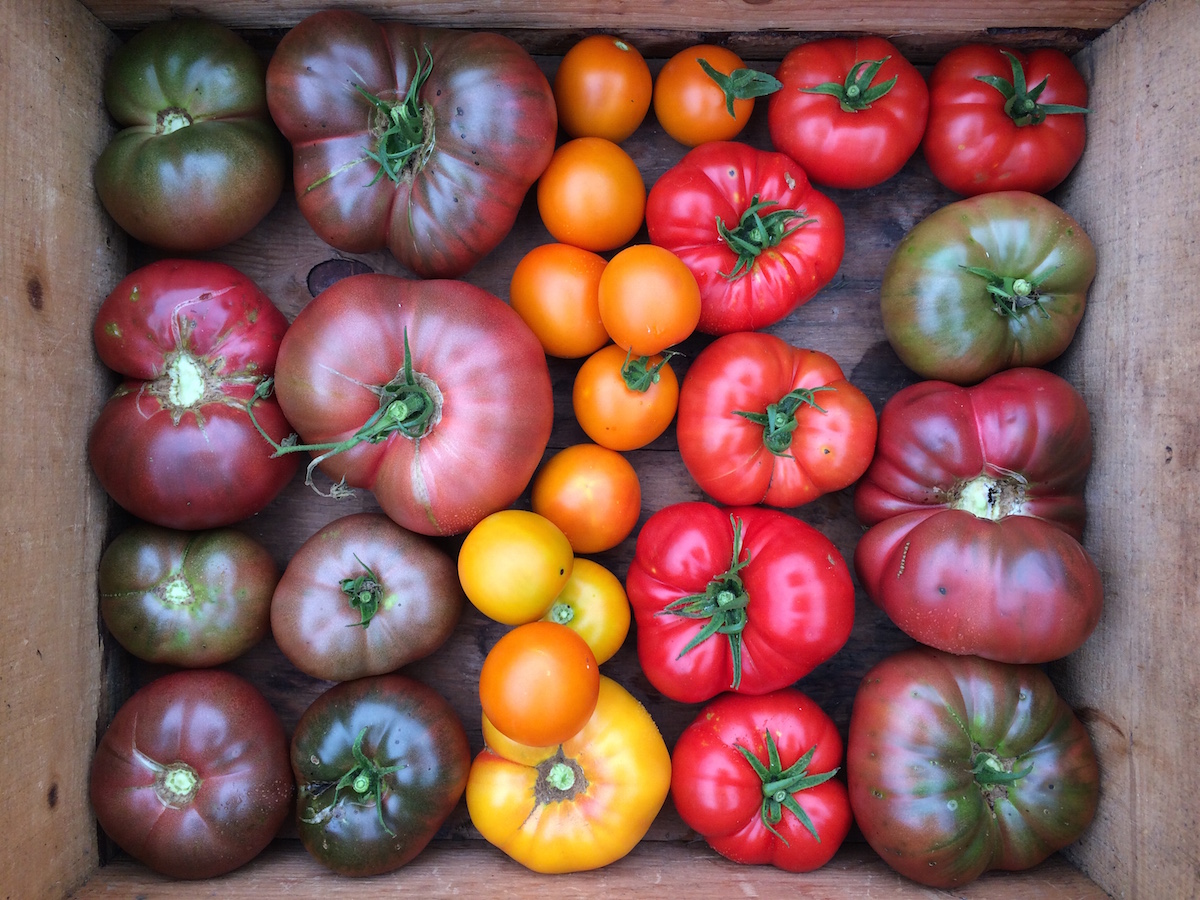 It's almost time to plant my tomato garden, if this Minnesota weather ever cooperates. (Today it's trying to snow.) In Minneapolis I like to plant around Memorial Day weekend, just so the ground is nice and warm. I'm starting everything from seed this year, thanks to my snazzy new AeroGarden hydroponics system. The tomatoes seem to love it! I can pick just the seeds I want and I won't have to rely on what's at the garden store. I also love choosing varieties from unique tomato breeders that you can't find locally.
Here's a list of everything I'm growing this year:
Cherry Tomatoes:
Sun Gold Hybrid – productive, fruity, gold-orange cherries (Burpee)
Red Pear Heirloom – old school pear shaped cherry, haven't grown these before (Burpee)
Beefsteak Tomatoes:
Hillbilly Potato Leaf Heirloom – one of the first heirlooms I ever grew – productive, big gorgeous orange/red beefsteaks with amazing flavor (Seed Saver Exchange)
Black Krim Heirloom – rich black beefsteak tomato from Russia that's dependable in MN summer weather. (Seed Saver Exchange)
Crnkovic Yugoslavian Heirloom – big pink beefsteaks that weather the cold without their skin cracking (new one for me). (Seed Saver Exchange)
Brandy Boy Hybrid – Burpee hybrid of the popular Brandywine and Big Boy tomatoes. New variety for me to hedge my MN weather bets.
Berkeley Tie-Dye – OP beefsteak tomato of spectacular color – green, yellow, gold & pink iridecent swirls – from breeders Wild Boar Farms. Also great for sucky summer weather.
Large Barred Boar – OP beefsteak tomato that's brown and pink with iridescent green stripes. Richly flavored, also from Wild Boar Farms.
Canning and Storage Tomatoes:
Provenzano Heirloom – huge ox heart tomatoes with silky flesh and few seeds, it's my favorite tasting canning tomato. The seeds come from a gardener at Dowling Community Garden where I have a plot. 
Big Mama Hybrid – biggest paste tomatoes I've ever seen, I've envied my neighbors plants for years. I'm finally growing them myself. (Burpee)
Burpee Long-Keeper Heirloom – harvested just before frost, this tomato will keep 6-12 weeks! I've had my eye on this variety for years, and now I can finally try it out. (Burpee)
Check my Facebook page or follow me on Instagram for tomato growing updates!