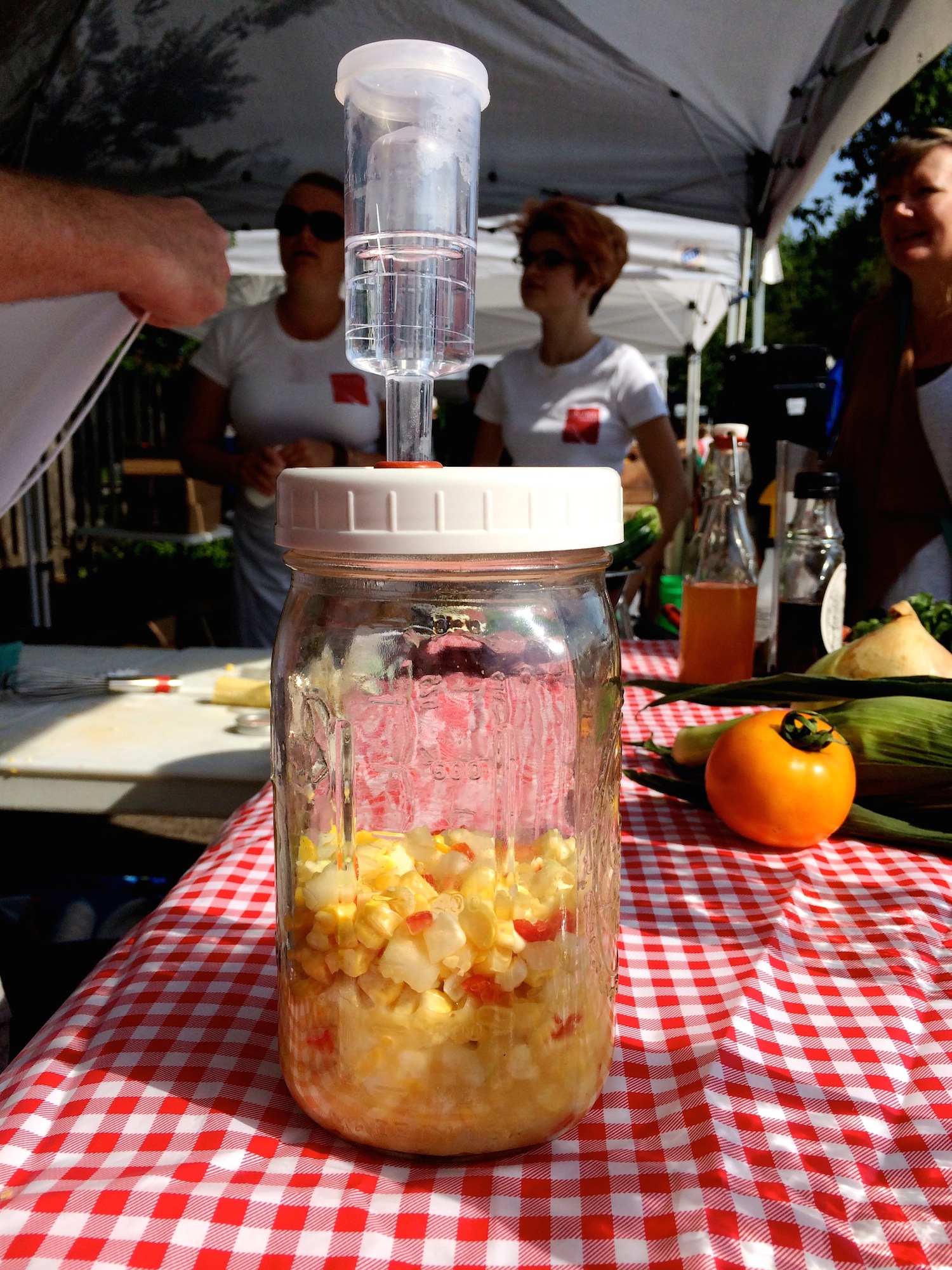 Last Sunday I had the pleasure of presenting and cooking at our local Linden Hills Farmer's Market as part of their Chef Guru series, produced by Kitchen in the Market.  The topic was what to do with the season's abundance of corn, tomatoes and zucchini.  My immediate thought was lacto-fermented vegetables which require no cooking at all.
Using the fabulous corn and peppers in the market I made Fermented Corn Relish.  I got the idea from Fierce Ferments, who makes mad fermented veggies like kimchi and kvass, and also sell his products at the market.  Fermenting is easy.  You toss your veggies in a little salt, or cover them in a salt water brine, and let natural lactobacillus bacteria (same kind found in cheese and sauerkraut) do it's thing.  Sounds like a biology experiment, right?  Well it is and it's delicious!  
I chopped up fresh corn, onions, hot peppers and apple (a little extra sugar to feed the bacteria), added salt, squished it with my hands, packed it in a jar and violá!  I also brought a little airlock top for my quart jar, which you can find online or at a co-op or beer making supply shop.  It's helps keep mold from invading.  Mold will not hurt you, but it does cause off flavors sometimes.  You can also use cheese cloth to top your jar,  you just have to skim off the mold if it forms.  Sunday at the farmer's market was pretty warm, so by time I went to bed that night, the corn was already fermenting.   I left the relish on the counter for a couple days and it was ready to eat.
The result is a sweet and sour relish with fresh corn flavor and a little heat from the hot peppers to round it out.  Yum.  Great way to capture the season.  
Thanks Kitchen in the Market, Chef Michael and Linden Hills Farmer's Market!  I had a great time.