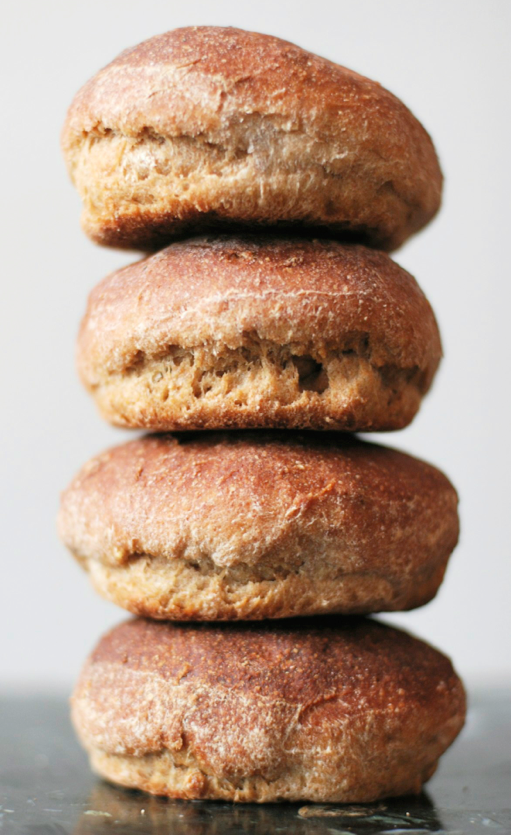 During these last gasps of winter, I've been cultivating sourdough starter.  Making sourdough is a comforting, familiar routine for me.  My current sourdough is a frugal, unfussy affair that ferments with just about any kind of starch.  Instead of fretting about a consistent flavor profile, I worked with what was on-hand.  I began with equal parts of spelt flour and water that I left to ferment on my kitchen counter.  Then as time went on, I added leftovers and spare handfuls of this and that; little oatmeal, some steamed rice, a handful of rye flakes, teff, rice flour and cornmeal. Extra mashed potatoes are next on my list.  My sourdough has everything in it but the kitchen sink.  
Sourdough has a storied history in my family.  The tale goes that when my Mother was newly married to my Dad, he worked as a cow-hand on a remote cattle ranch in Southeastern Oregon.  The what was once the historic MC Ranch was on the high plains with few trees, constant wind and harsh winters.  People in that part of of Oregon are hard and hardy.  This did not describe my Mother.  She did not like horses, or cows, or frankly winter.  She came from a small, warm little town near Fresno, California, where things were a bit more civilized.  The women of the MC Ranch were tough, burly and a little intimidating.  So when they gifted her a jar of their sourdough, my Mother accepted with a gulp.  The women explained that sometimes when you were on a cattle drive and it was cold out, it was best to keep the jar of sourdough in your sleeping bag, otherwise you would not be having flapjacks in the morning.  So my Mother kept the sourdough starter.  And slowly but surely, she figured out how to use it.  My Mom grew more hardy, less intimidated, much more daring.  Sourdough has that effect.    
While I was in college, my Mother gifted me a jar of that sourdough.  I'd like to say that I still have it, but college students aren't the most mindful bunch.  I lost it somewhere between undergrad, moving to Los Angeles and a couple earthquakes.  But I've I never lost that story, nor the food memories that go with it.  I've started and lost lots of sourdough batches over the years, using new ingredients in different cities, each with a unique flavor.  But one thing never changes.  Sourdough is a hardy survivor.  You can make it just about anywhere, with just about any starchy ingredients.  All you need is time.  And a sleeping bag.
UPDATE! I will be contributing this bread to the to the Food Blogger Bake Sale, Saturday, May 4th 12:00n-3:00pm at Kitchen in the Market at Midtown Global Market, 920 E Lake St #107, Minneapolis, MN 55407.  It's a fund raiser for the Share Our Strength's "No Kid Hungry" campaign.  So come support a great cause and buy my buns!