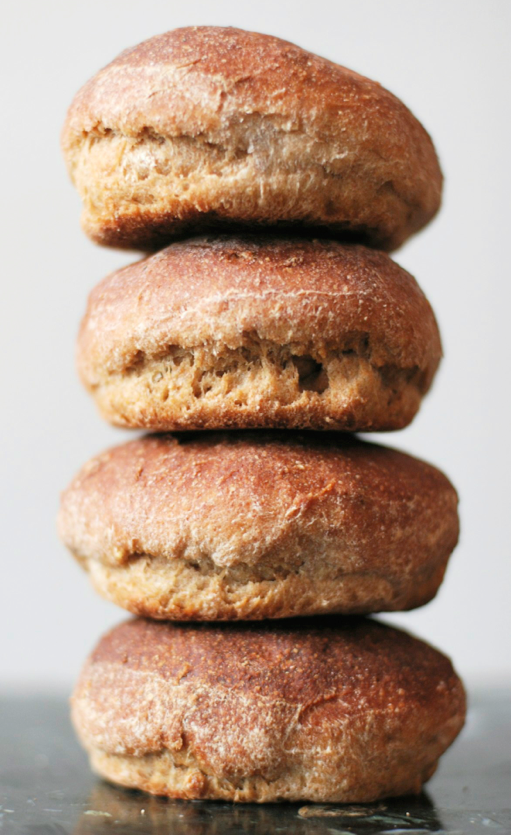 Ingredients:
1 c active sourdough starter
1/2 c water
1/2 c whole milk
1 large egg
2 Tbs olive oil
3.5 c whole spelt or whole wheat flour
2 tsp salt
Instructions:
This recipe makes 8 buns that are a great size for burgers.  Start this dough the night before for best results.
Remove one cup of starter from your sourdough batch.  Be sure to replenish it!  In a non-reactive bowl, combine the starter with the water, milk, egg, salt and olive oil.  Stir in the flour.  You want a loose-type dough so you should still be able to move the dough around with a spoon.  (We will add more flour later if it needs it.)  Cover the  bowl loosely with plastic wrap or a damp towel and set in a warm place to rise overnight for 12 hours.
The next day, turn the dough out onto a well floured surface and knead until pliable, adding more flour if needed.  The dough should come together quickly.  Let rest for 20 minutes, then divide the dough into 8 equal portions.  Form rounds out of each piece of dough and place on a well oiled cookie sheet.  Loosely cover with a damp towel or plastic wrap so that the dough surface does not dry out.  Let rise in a warm place until the rolls have doubled in size.  This may 2-4 hours.
Preheat the oven to 425 degrees.  Bake the rolls on the top rack of the oven for 20-30 minutes until puffed and brown. Sourdough likes to take it's own sweet time, but the flavor is well worth it!