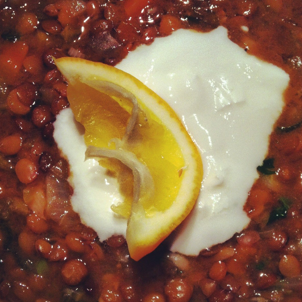 Ingredients:
2 cups dried brown lentils
2 tbs olive oil
1 onion, chopped
1 carrot. chopped
1 large clove garlic, minced
2 celery stalks with leaves, chopped
2 tbs minced preserved lemons
2 tbs hot paprika
2 tbs ground cumin
2 tsp salt
black pepper
handful cilantro, chopped
2 green onions, chopped
yogurt
1 Meyer lemon, quartered
Instructions:
Sauté onions in olive oil until lightly browned.  Add lentils, carrots, garlic and celery and sauté for 5 more minutes.  Add 8 cups of water, preserved lemon, paprika, cumin, salt, pepper to taste.  Bring to a boil, then simmer on low for one hour until lentils are tender and beginning to fall apart.  Taste to adjust seasonings, then add a handful of chopped cilantro and green onions, stirring well.
To serve, ladle soup into bowls.  Add a generous dollop of yogurt, then a squeeze of Meyer lemon on top. To make Vegan, leave out the yogurt.