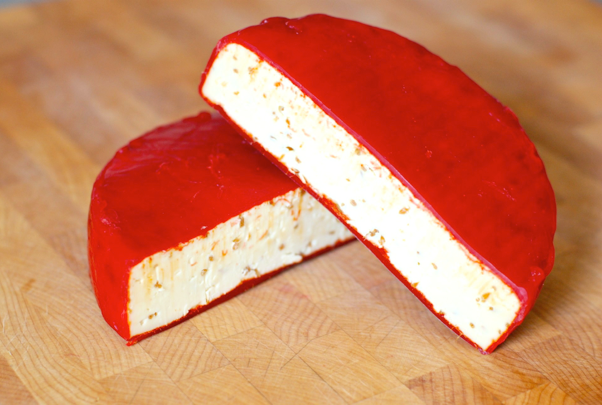 Behold!  It's time to unmold (pun intended) the Cumin Jack Cheese with Smoked Paprika that I made back in January.  After the cheese was coated in smoked paprika and the surface had dried for several days, I coated it in red cheese wax and tucked it into my wine fridge.  Because the cheese is inside the wax, I did not have to add humidity to the fridge as I do for charcuterie and unwaxed cheeses.  The cheese aged for just over two months.  With Jack you can age it as little as a month or as much as six months.  My Jack is made with whole milk, so the resulting cheese should be semi-soft.  This is the first cheese I've waxed, and I was quite excited to see how it turned out.
The cheese is fantastic!  It has a creamy, buttery consistency with earthy, dusky flavors from the cumin seeds and a smoky, sharp kick from the smoked paprika. I immediately made a corn tortilla quesadilla with the cheese and it was perfect.  This cheese melts like a dream, turning a lovely pink hue.  Next I tried it on a sandwich with some dill pickles, mayo and mustard.  I think I'm in love.  And the best part?  I'm wrapped the remaining cheese tightly in plastic wrap and put it back in the wine fridge to continue aging.  This cheese will just keep on getting better.  If I can stop eating it.
A Note on Aging Cheese: I have many projects brewing in my house.  Beer, wine and cider in the basement, kimchee, sour dough and kefir in the fridge, cheese and bacon in the wine fridge.  A wine fridge is perfect for cheese and cured meats because they love it at an even 54-56 degrees.  But wait, why isn't the wine in the wine fridge?  Frankly my beer, wine and cider won't fit in the wine fridge because they are in 5 gallon containers.  I could age the cheese in the basement, but my wine fridge is quite a bit cleaner and a more easily controlled environment.  Some day I'll build a proper cellar, but for now, the wine fridge is the ticket.