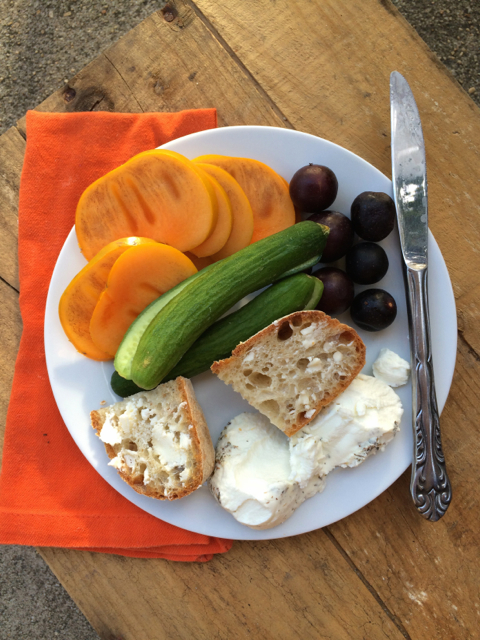 On my recent trip to New Orleans, I was on a search for Creole Cream Cheese.  I'd read about the cheese in my copy of Home Cheese Making by Ricki Carroll.  Surprisingly, the cheese proved incredibly hard to find. I rode my bike all over the city looking in shops, at the Crescent City Farmer's Market (great cheese, just no Creole Cream Cheese) and supermarkets, finally finding one brand in a high-end store in the Garden District.  It was made by Mauthe Farms in nearby Mississippi. We later discovered it's also made by a local supermarket named Dorignacs.  The flavor and texture is like a cross between ricotta and farmers cheese, with the tang of buttermilk.  While in New Orleans we enjoyed it for breakfast spread on toast topped with fruit on the porch of our rented Shotgun house.
According to the Slow Food "Ark of Taste," an international catalog of heritage foods, this soft cheese was created in the 1800s by the original French settlers to New Orleans.  Often made at home or by local dairies, the cheese began to disappear in the 1900s as state dairy regulation increased.  The last factory in New Orleans shutdown in 1986.  Thanks to area chefs, home cooks, food preservationists and groups like Slow Food and the Southern Foodways Alliance, Mauthe Farm and Dorgnacs, the cheese is making a comeback.
Traditionally made from raw milk after it is skimmed of cream, then left to "clabber" or form curds, the modern version involves adding buttermilk as the culture to pasteurized milk, along with a little rennet.  After the whey is drained off, the soft cheese is topped with cream before eating.  Creole cream cheese was often eaten for breakfast with fruit or sugar, or on toasted bread.
In classic slow-food tradition, this cheese is incredibly simple to make at home, although it does need to sit for 48 hours on the counter.  My partner Christopher has requested that it be added to our regular homemade dairy products, which include yogurt, kiefer and buttermilk.  Really people, I need a cow!  Someone hook me up.
Rennet, chèvre and basket molds, and Home Cheese Making by Ricki Carroll can all be found at New England Cheesemaking Supply Company website, as well as Hoeggers Supply Co.  Rennet can also be found at many natural food stores.