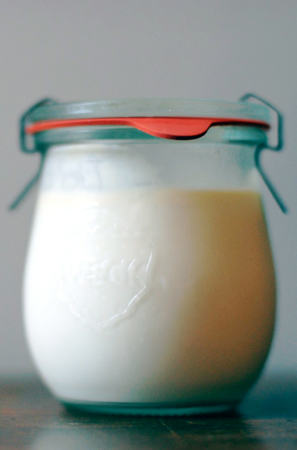 Yogurt is a staple in my house where we make it by the half gallon. But constantly dipping a spoon in to the big container turns the yogurt into a slimy, runny mess. I'm encouraging my daughter to eat more yogurt, but one look in the tub yields an instant 'No thanks, Mom.' Enter, the single-serving yogurt jar. I had never tried making these before without a yogurt maker, but thanks to the arrival of a crockpot in our house, now was the time.
I mixed up a batch of yogurt like I usually do, using a bit of leftover yogurt and whole milk, but then pouring the mix into little jars. I left a little head space in each jar so I could toss in granola, muesli, fruit, nuts or jam later. Then the jars went into a water bath in my crockpot. I wrapped the crockpot in a fluffy towel and waited 6 hours. Into the refrigerator it went, and viola! Portable yogurt.
I used cute little 1/4 pint jelly jars for my 6 year old daughter, who can grab them for breakfast, lunch or a snack whenever she likes, and 1/2 pint jars for the adults. The individual containers are reusable and the yogurt stays fresh and firm for several weeks. Best of all, I used non-homogenized milk, creating a yummy cream top layer. We tore through our first half gallon in one week!