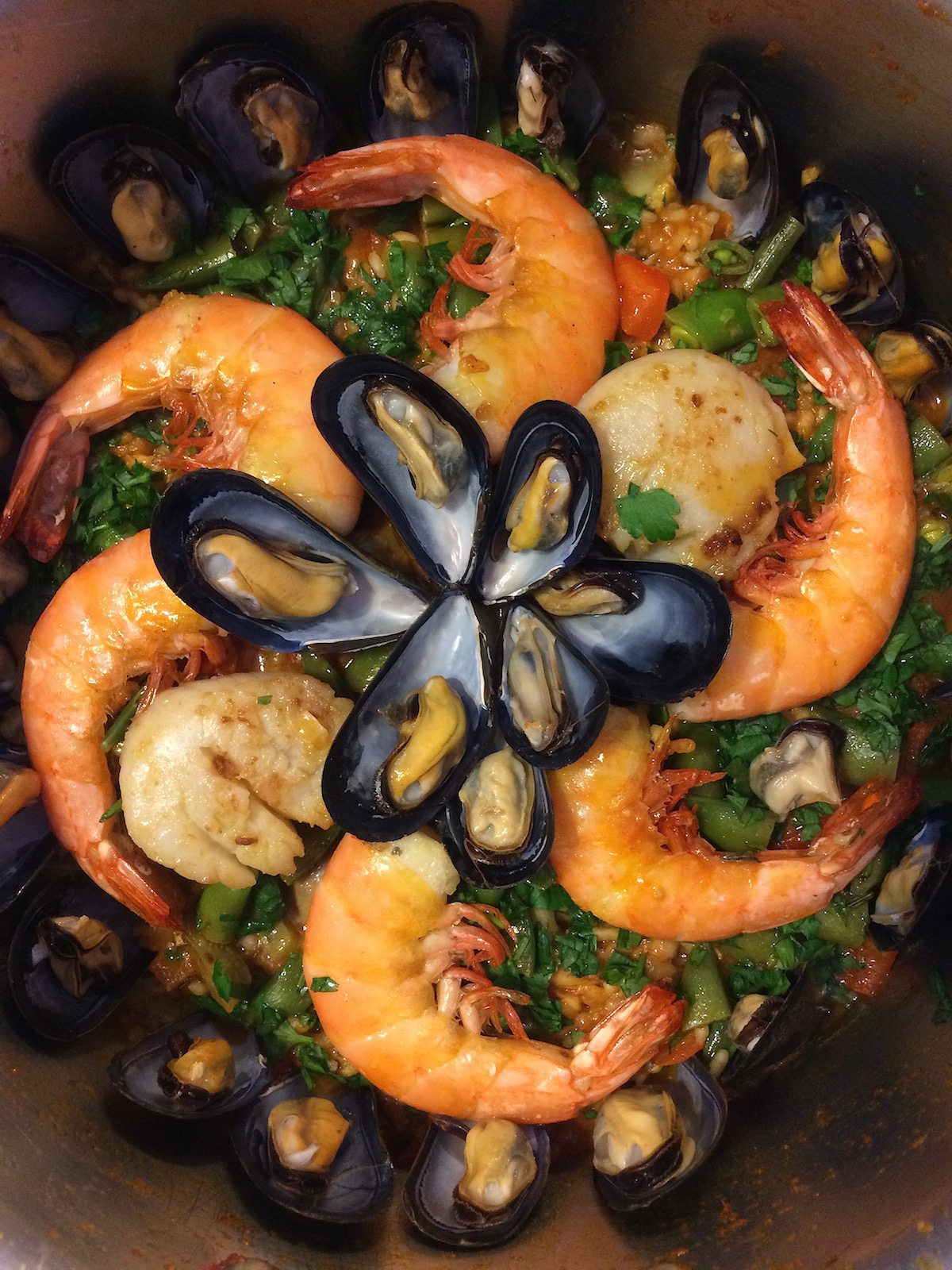 I have never made paella before. It's one of those dishes that is so specific to Spain, nay to each person in Spain that cooks it, that I felt weird attempting such a dish before tasting it first hand. During our recent trip to Barcelona we took a cooking class with Foodie Experience Barcelona. Our teacher, Angels, is from the nearby town of Girona, where her parents have a small farm.
Angels confirmed that paella is a distinctly family dish, different in every kitchen in Spain. But it's not just for holidays and special occasions. Paella is often made every Sunday for family dinner, using whatever the local markets deem fresh. That day we made it with big prawns, mussels, cuddle fish, chicken thighs, fresh pork and chicken sausage (not chorizo), romano green beans, red bell peppers, onion and peas, along with chicken stock, tomatoes and Bomba short grain rice, sweet pimentón, olive oil and saffron. 
While we measured the rice and stock, that was really all we measured. Everything else was freeform. The phrase "cook until done" was certainly true here. Sure, the rice took about 20 minutes after everything was in the pan, but there is great variation in the doneness of the rice – and that's actually what you want. The bottom was well done and brown (amazing crust), middle was about right, top and outside were al denté. You don't cover or stir the rice while cooking.
I've adapted this recipe to my seasonal ingredients, but I did go out of my way to haul back Bomba rice, pimentón (smoked paprika), olive oil and saffron from Spain. Now that I've made it successfully at home, the main advice I have for you is to try and build the flavors as you go and don't rush the process. That fond in the bottom of the pot ends up in that crusty rice bottom that everyone love. Enjoy!