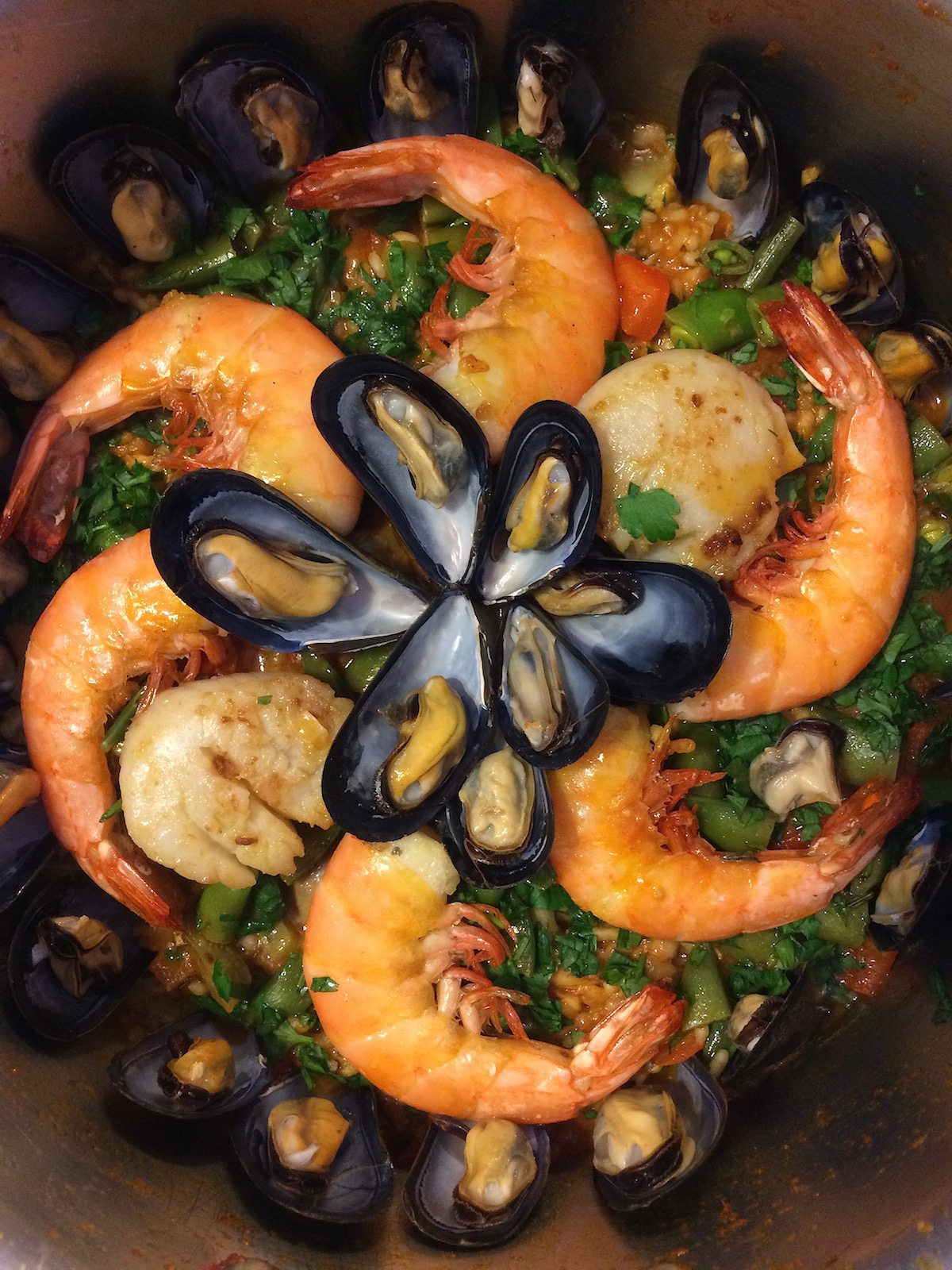 Ingredients:
8 large prawns (head on preferred)
4 large scallops
2 skinless, boneless chicken thighs, quartered
2 fresh pork sausages (like brautwurst, garlic sausage, etc)
4 cloves garlic, minced
2 cups crushed fire roasted tomatoes or 4 ripe medium tomatoes, grated
1 onion, diced
1/2 cup green beans, diced
1/2 cup red or green bell peppers, diced
1/2 cup artichoke hearts, sliced
1/2 cup green peas or snap peas, diced
4 cleaned squid, cut into 1 inch thick rings
16 mussels, clams or combination
2 cups short grained Spanish rice
8 tbsp. olive oil
1 tsp. sweet or hot smoked paprika (to taste)
8 saffron threads (to taste)
4 cups fish and/or chicken stock (I used a combo)
Salt to taste
Instructions:
There are a lot of ingredients in this dish and each builds flavor as you go. This recipe is meant to be flexible and reflect what's in season.  No clams? Use all mussels. No squid? Octopus or cuttlefish work. No shrimp? Try crab legs. No scallops, try baby scallops or fresh chunks of fish. Same  goes for the veggies and meats – use what's fresh and seasonal. If you're in doubt about cooking times, cook each ingredient separately in the same pan and set aside, adding back when you add the rice. Quick cooking things like shrimp, mussels and peas should be added back right at the end.
Clean and rinse the mussels and clams using cold water. Discard any that refuse to close when gently pressed.
Put the stock in a pot and bring to a boil.  Add the mussels to the pot of boiling stock and cook for 15 seconds. Remove to a bowl. Repeat with clams. If any shellfish have not opened, discard them. Return any reserved juice in the bowl to the stock, which should continue to simmer.
Prepare and chop all the vegetables. Chop the squid and set aside in a bowl. Quarter the chicken thighs.
In a wide 4 quart pan or paella pan, heat 6 tablespoons of olive oil, sauté the prawns, one minute each side. Do not fully cook. Remove and set aside.
Season the scallops with salt and sear them on each side until barely cooked through.  Remove and set aside with prawns.
Add the sausages to the pan and cook until just done.  Remove, slice into coins and them return to pan.
Add chicken and squid to the sausage in the pan and sauté until all are slightly brown. 
Add the onions and cook until lightly brown, then add the rest of the vegetables, except the peas, and sauté for a few minutes.
Add the tomato purée and the minced garlic. Cook and stir the mixture until the tomato begins to caramelize and the mixture is fairly dry. 
Add the paprika, saffron and rice. Stir to integrate flavors, then add all the boiling stock at once.  Stir one more time to combine.
Bring the mixture to a boil on high heat and cook for 5 minutes, uncovered. Do not stir the paella! Turn the heat to low and cook for 10 minutes, uncovered and undisturbed. 
Sprinkle the peas over top of the rice. Arrange the prawns. scallops, clams and mussels over the rice. Cook rice for 5 more minutes. 
Remove pan from heat and cover with a kitchen towel for 5 minutes. Serve immediately.
When serving, be sure to scrape the bottom for the crusty rice. It's the best part. Enjoy with a glass of dry cava or sangria. Salut!