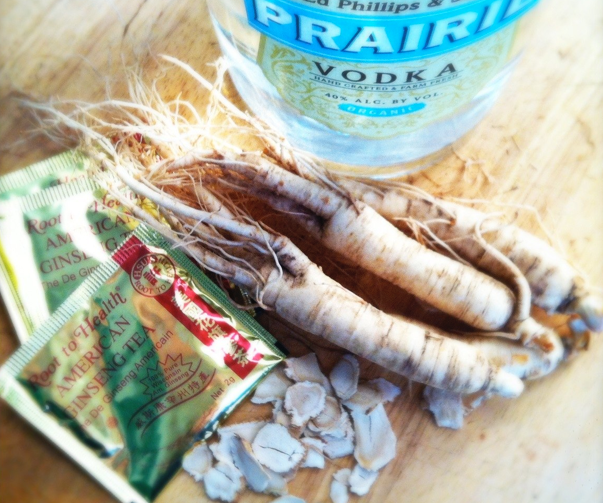 After my recent experiment with juniper bitters, I've been dreaming up new concoctions.  But never did ginseng bitters cross my mind.  I'll be the first to admit that I don't know much about fabled root.  Many swear by its health properties which include increasing energy, memory and stamina, with a little sex drive boost on the side.  But after tasting some wonderful fresh ginseng infused whisky at a recent Minnesota Food Bloggers event at Heidi's in Minneapolis, I was intrigued.  It had wonderful herbal notes with earthy, nutty and slightly sweet overtones.  This had possibilities.  Then I met the ginseng grower, Will Hsu, whose family runs one of the largest ginseng farms in the country, right next door in Wisconsin. 
American Ginseng (Panax quinquefolius) is in the same genus as Asian Ginseng (Panax ginseng), and has the same active compounds, called ginsenosides.  It is native to the US and Canada, with a growing region that stretches from central Wisconsin, north through Quebec, over to New York, down through Appalachia and back across the Ohio Valley.  Ginseng grows in cool, shady woodlands and has been foraged by native peoples for possibly thousands of years.  Commercial production is intensive.  Ginseng takes 4-5 years to grow and the fields must be covered in shade cloth to simulate the forest floor.  
Originally from Taiwan, Will's parents have been growing ginseng in Wisconsin for over 30 years.  Central Wisconsin is the epicenter of American ginseng cultivation, with nearly 200 growers in the area.  Hsu's Ginseng Enterprises, Inc. alone produces about 100,000 pounds a year.  Wisconsin-grown ginseng is known for its distinct aroma and medicinal effects.  If ever there was a terroir-influenced herb, this would be it.