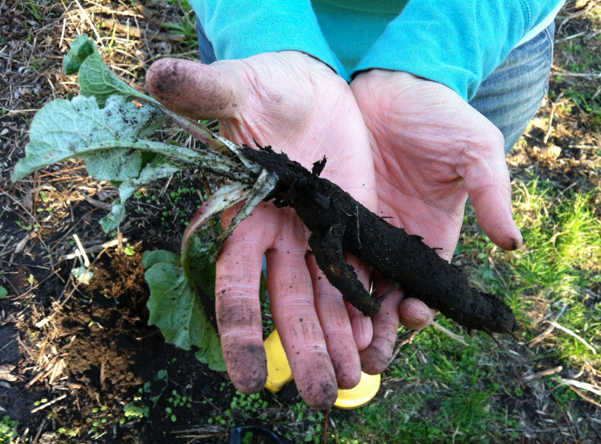 Foraging for burdock root has been on my radar for a while.  I love the idea of foraging for mushrooms, vegetables and fruit, particularly within the urban area of Minneapolis.  It's a basic skill that I've wanted to further develop to take advantage of ultra local resources.  With our early spring in Minnesota, burdock is popping up everywhere.  I'd heard that burdock is a tasty root vegetable, but had never tried it.  I frequently see cultivated burdock at my co-op, but at $6.29 a pound, foraging in a vacant lot seemed much more appealing.  
The bi-annual plant is a relative of the artichoke and the root has a very mild artichoke flavor, sort of like a cross between an artichoke and a parsnip.  It also oxidizes like a cut artichoke.  The quality of the root depends on how old it is in its 2 year cycle.  We found that the younger, thinner roots are definitely the best, cooking up quickly with a creamy texture.  The older roots are tough and woody.  We had to cook the heck out of them before they were tender, but the taste was rather lackluster.  Did I mention that burdock seeds/flower heads form cackle-burs?  When dry, they stick to anything and everything.  It's burs inspired velcro.  Seriously. 
Burdock root is best dug in early spring when the fuzzy, light green-grey leaf rosette appears, before the flower stock begins to grow (which is also edible, stay tuned for part two of this post later in the season.)  We found that a digging fork worked great to loosen the soil.  The root can grow over a foot long, so a regular shove may cut the root in half.  Don't even bother digging in hard, compact, or rocky soil.  The roots are tenacious.  Better to find a nice soft patch by a stream or near freshly tilled earth.