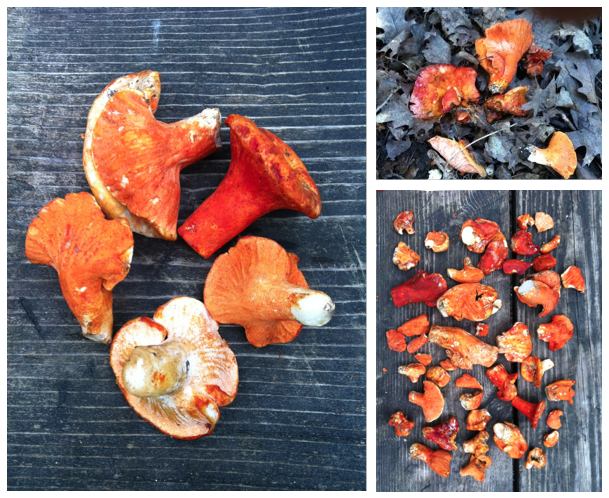 Lobster mushrooms are the strangest edible fungi that I've yet encountered.  Unlike their camouflaged cousin the morel, lobsters are like a stop sign.  Look at me, I'm over here!  And once you find one pocket, others are sure to follow.  On a recent trip to a local state park, we found these mushrooms everywhere.  We were hunting in an oak forest with lots of leaves and buff on the ground, after a rain.  The lobster mushrooms were hard to miss, their color popping them out against the gray-brown leaf litter.  Unfortunately I only had my field guide on me for reference, which has the ominous warning for lobsters that says that if you can't identify the host, don't eat them.  We picked a bunch, but ended up tossing them because we didn't have a solid identification.
The next day we drove up out of the valley into cell range, tweeted a fellow forager, and confirmed that it was highly unlikely that this was anything but an edible lobster mushroom, especially if the area was populated by their common hosts.  Damn!  Back we hiked to the same area.  Now we started looking for the host mushrooms, Russulas and Lactarius.  These related mushrooms are both found under trees, with whom they grow symbiotically.  Russulas are often red, brown and green topped, all with white gills and brittle flesh.  Lactarius, also known as milky caps, are very similar, although they exude a milky latex from their flesh and gills.  Both range from choice sweet edibles to acrid poisonous varieties.  
Lobster mushrooms are actually two fungal organisms.  One is the host, either Russulas or Lactarius mushrooms, that has been overrun with a parasite, namely by a microscopic ascomycete fungus, Hypomyces.  The Hypomyces infects the young fungi, transforming them into a roughly textured, dense, deformed, orange-red, edible mushrooms.  Yep, you heard it right.  The Hypomyces fungus renders even the poisonous varieties of these hosts completely edible.  And it gives off the heady aroma of cooked seafood, and tastes like it, too.  Amazing!  Hypomyces has been known to rarely infect other poisonous mushrooms, but they look nothing like lobsters. 
The moral of the story is to be sure that you know what you're picking (and eating.)  While I morn the pounds of lobsters we threw away, it is always better to be safe.  It's best if someone can show you what a real edible mushroom looks and smells like in person, preferably in the right habitat, like on a foray.  Then the field guides make sense.  Identifying specimens only from a guide can be a risky business.  As my friend & fellow forager Kathy likes to say, "Every mushroom is edible – once."  
Below you'll find my recipe for Lobster Mushroom Bisque, which is a dead knockoff for the real thing.  You won't believe how much it tastes like real lobster.  But instead of growing in the sea and costing $20 a pop, it grows in the dirt and is harvested for free.  Now that's what I call foraging.