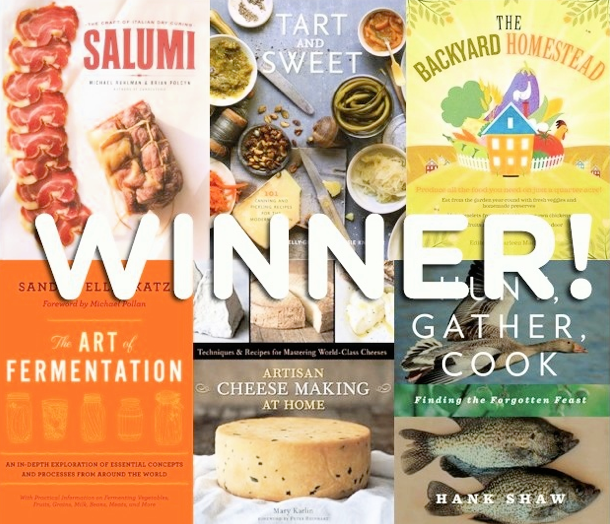 From my muddy gardening tomes to sauce-splotch cookbooks to dog-eared DIY manuals, I really love my resource books.  On a cold winter's night there is nothing better than paging through a reference book looking for fresh inspiration.  Above is my Christmas wishlist (fyi, family) of new and recent books from all the areas in my blog; preserving meats, growing food, canning, fermenting, cheese making and foraging.  Some of these authors, like Michael Ruhlman, Sandor Ellix Katz and Hank Shaw, have inspired me for years, so their books have been on my list since they hit the shelves. The other books I've just had my eye on, paging through them every time I'm in the bookstore or when I see one of their articles or recipes on the web.  I want them all!
In anticipation of the approaching winter reading season, I am hosting my first-ever "Get Social" Twitter, Facebook and Pinterest campaign and book giveaway!  If you would like a chance to WIN one of these great books, here's how.  You get one entry for each social connection you participate in (a potential of 5 entries!)  
The randomly drawn winner will be announce by Sunday, October 28th, 2012, on this blog, on Twitter, Facebook and Pinterest.  I will also contact the winner via those outlets.  The winner will choose one of these great books for their prize, which will be mailed to them via Amazon.com.
The fine print:  Open only to shipping addresses within the United States that can be sent via standard US mail.

(So sorry my international friends!)  
UPDATE!  We have a WINNER.  Congratulations to Arin Lowe for her follow on Pinterest.  Arin gets her book of choice from the list.  For everyone else, take a look at these great books if you have a chance.  They are definitely on my list to Santa this year.  And thank you to all of you who participated by sharing this website.  I am so happy to have you reading my blog.