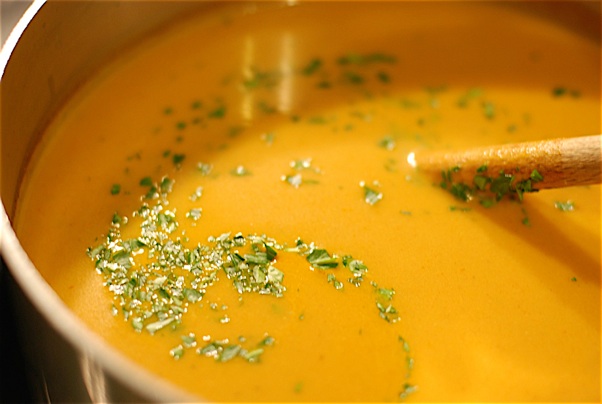 Ingredients:
3 lbs lobster mushrooms, cleaned & thinly sliced
6 tbs butter
2 tbs olive oil
4 large shallots, finely chopped
2 carrots, finely chopped
2 ribs celery, finely chopped
2 clove garlic, finely chopped
1 large yellow onion, finely chopped
2 tbs tomato paste
Kosher salt & pepper, to taste
1⁄4 cup vodka
12 sprigs parsley
6 sprigs thyme
2 large bay leaves
2 cups white wine
6 cups vegetable stock
1 tsp tabasco sauce
1 cup heavy cream or 1/2 & 1/2
1 tbs chopped parsley
Instructions:
In a large pot, heat butter and olive oil. On medium high heat, add lobster mushrooms. Cook until all water is evaporated and mushrooms begin to brown. Add shallots, carrots, celery, garlic and onions and cook until vegetables are lightly brown, about 15 minutes. Add tomato paste and combine. Season with salt & pepper. Add vodka to the pan to deglaze, scraping up browned bits. Tie the parsley & thyme in to a bundle and add to pot with bay leaves, wine and stock. Bring to a simmer and cook for 1 hour until mushrooms are tender. Puree the soup in a blender until smooth. For extra smoothness, strain through a sieve. Return puree to the pot and add heavy cream. Simmer 5 more minutes, but do not boil. Check seasonings and serve. Sprinkle with chopped parsley. You'd swear there was lobster in there.