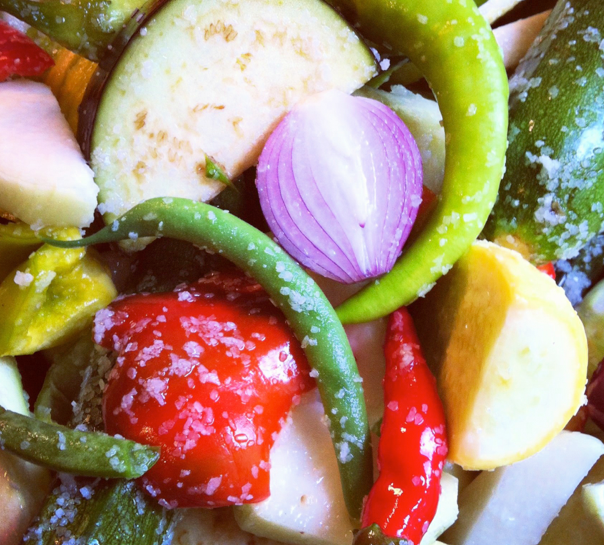 Ingredients:
6 hot chiles halved
4 sweet peppers, cut into 2″ slabs
1 eggplant cut in 2" chunks
2 carrots halved & cut into wide sticks
1 medium zucchini, quartered
1 yellow squash, quartered
4 kohlrabi, peeled & sliced in 1/2" moons
1 cup baby or cipolinis onions, peeled
big handful green beans
1/2 cup salt
4 cloves garlic quartered
1 bunch fresh oregano
2 teaspoon red pepper flakes
1 teaspoon celery seeds
2 teaspoon crushed black peppercorns
2 cup red wine vinegar
1 cup water
Instructions: 
In a large bowl combine all the vegetables and salt.  Cover with water.  Cover the bowl and allow the mixture to sit on the countertop overnight.  
The next day, drain the vegetables and rinse thoroughly with cold water.  Prepare your water bath canner.  Place two quart jars and lids in the water bath to warm.  Bring the vinegar and water to a simmer in a separate pot.  Into the hot jars, divide the garlic, red pepper flakes, oregano, celery seed and peppercorns.  Pack the vegetables into the jars, then pour over the vinegar solution.  Add the lids and process the quarts for 15 minutes.
To serve, dress the pickles with a tablespoon or two of olive oil, course salt and freshly ground pepper.