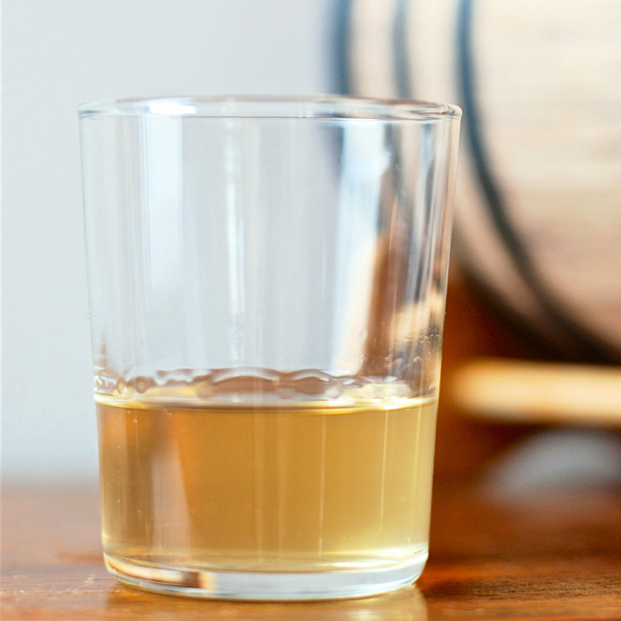 While I was in the Caribbean this past November, I tasted a homemade ginger rum at Bistrot Caraibes on the island of St Martin.  The rum was served as a night cap after an excellent meal of foie gras with mango and Caribbean lobster thermidor.  It was the perfect end to a perfect meal and the highlight of my vacation.  When I asked my host how the rum was made, I got a vague description with some hand waving. "We make a syrup then blend it with amber rum."  Must be a secret, I thought. When I returned home I set about making my own version.  But then inspiration struck, in the form of a baby bourbon barrel.
Meet my new bestie:  A genuine mini Kentucky bourbon barrel.  I have three of them, ranging from 1 to 3 liters in size.  These barrels are crafted from used bourbon barrels, cutdown and retooled for personal use.  Made by Bluegrass Barrels out of Louisville, Kentucky, they were a birthday gift from my mother, who knows I have a thing for making booze.   But I had not figured out what to make with them yet.  
The ginger rum recipe turned out to be just the thing.  Instead of using amber rum, which is lightly aged in wood, I used white rum, figuring that I would add the age myself in the barrel. The ginger flavor comes from an extra gingery sugar syrup.  The ginger rum mixture is poured into the 1 liter barrel and set to age for one month.  Because smaller barrels actually have a higher wood surface to alcohol exposure, the aging process occurs much more quickly than it does in a 50 gallon barrel of bourbon.  I had to sample it frequently to make sure it tasted good.  Or that's what I keep telling myself.
The barrel aged ginger rum turned out spicy and smooth with a smoky caramel finish.  And while you don't have to age it in the barrel (it tastes pretty darn good raw), the barrel aging makes the rum taste amazing.  It's so good that I just drink it straight up.  Hands down, it's the best boozy combo I've made to date.  And your bar tray will look so chic and retro with it's own cask of rum on it, your friends will be totally jealous.