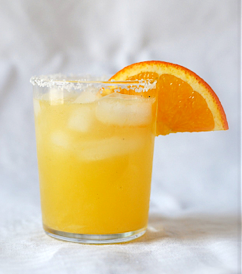 Ingredients:
2 oz silver tequila
1 oz fresh orange juice
1 oz fresh lime juice
1 oz Navel Orange Liqueur
1×2 inch strip orange peel
6 drops orange bitters
kosher salt
Instructions:
Rim a rocks glass with the orange peel then with kosher salt and fill with ice. Twist the peel over the ice, then add it to a cocktail shaker filled with ice along with the tequila, orange juice, lime juice, and Navel Orange Liqueur. Shake well and pour into the glass. Float 6 drops orange bitters over the top and garnish with a half slice of orange.