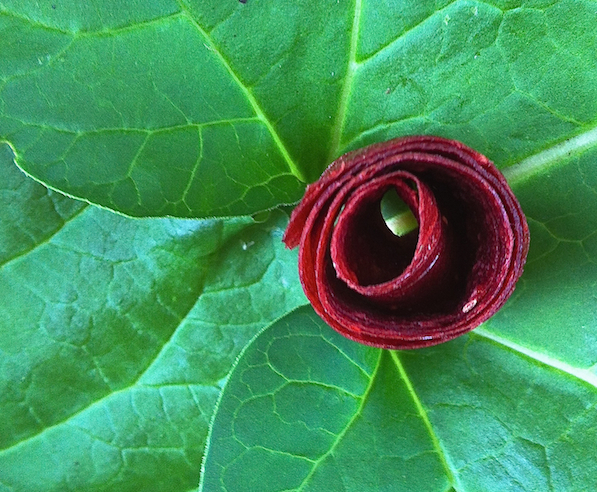 Ingredients:
10 c diced rhubarb
2 c diced plums (skin on)
1/2 c water
1/2 c honey (to taste)
Instructions:
Cook rhubarb, plums, honey and water until fruit is softened. Add to a food processor or blender and puree smooth. Adjust sweetness to your liking.
If using a dehydrator, line two or three dehydrator trays (depending on size) with plastic wrap or parchment paper. If using the oven, spray a cookie sheet with cooking spray or line it with parchment paper (do not use plastic wrap in the oven as it will melt.)
Evenly spread mixture over trays. Set your dehydrator to 115 degrees or your oven as low as it will go, leaving the door open a crack. Dehydrate until no longer sticky. Rotate the trays every couple of hours for even drying. Remove from dehydrator or oven and allow to cool over night.
Roll the leather leaving the wrap or paper on the back. Place in a ziplock bag or wrap the whole rolling in plastic wrap. I like to use scissors to cut off the end of the roll, making fun fruit strips for lunches.
Makes 2-3 sheets of fruit leather.