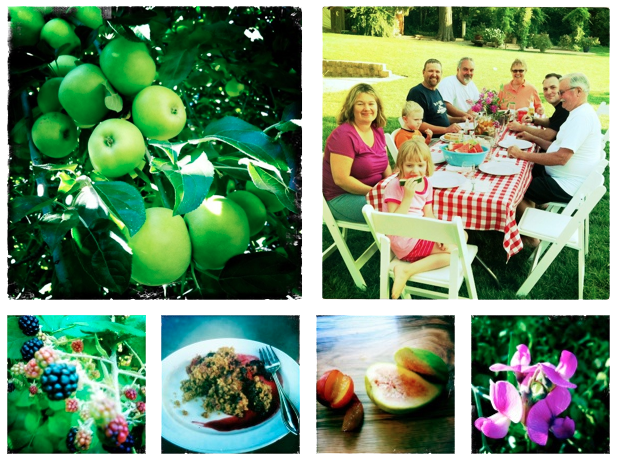 My family has been at a cabin in northern California along the upper Sacramento river all week. Our cabin is in what was once the town of Delta, a coal and water stop for the railroad over 100 years ago. The houses were mostly owned by the railroad crews, which repaired the rails and manned the stop. At the time this must have been a very remote location, so a certain amount of self-sufficiency was required. The fences and roadways are lined with old apple, pear, plum, peach, persimmon and fig trees, along with grape vines and hedge after hedge of wild blackberries.
This is what I love about California. The weather is temperate and everyone has a fruit or nut tree, bush or vine in their backyard. And if it isn't planted, the wild plants abound. On my walk yesterday I gathered green apples from a very old tree, as well as picked a big bowl of wild blackberries. I also tasted a few figs and plums. Also growing in the ditch on the side of the road were beautiful perennial sweet peas, which have edible pods, and wild mint.
Back at the cabin I made an apple and wild blackberry crisp for our evening dessert. If you don't have apples & berries out your back door, this crisp will still be good with store-bought fruit. But it won't come with a sunburn or blackberry thorn scratches.