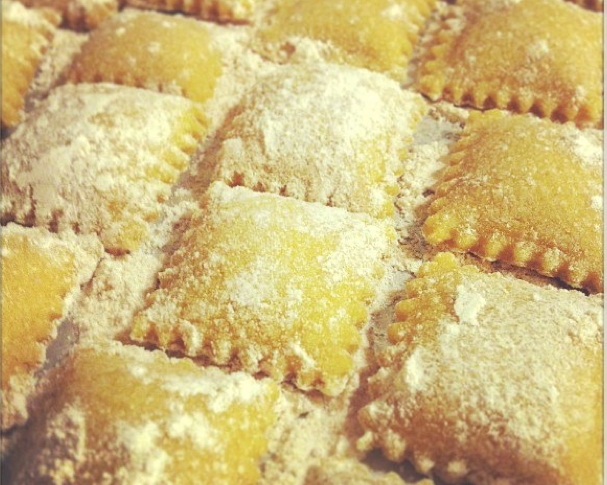 What to have for Christmas dinner?  Ah, the eternal question.  It should be special, communal and hearty, but not so complicated that you can not enjoy the day.  Ham is traditional fare in our family, but we were a small group this year and I already made ham for our Winter Solstice Party.  The week before the Christmas holiday, I picked up a half a hog, one hundred and twenty pounds of local, pasture-raised pork from Snake River Farms Minnesota now grace my deep freeze. So clearly is had to be made of pork.
Garlic Sausage Ravioli seemed like a delicious solution.  Although there are lots of steps in the process, we could make the garlic sausage ahead of time, then assemble the ravioli on Christmas day while lounging around in our pajamas.  My partner's family has a long tradition of doing hand-made ravioli for Christmas, so he was game.  Making ravioli is a lot like making tamales – it's much more fun with help (and wine).  
The results were wonderful.  The sausage was savory and delicious, packed with garlic and wine, pairing perfectly with fresh milky ricotta cheese, nutty parmesan and pungent romano.  The hand-rolled pasta, made bright yellow with farm fresh eggs enrobed the filling.  The cooked ravioli was dressed with a rustic tomato sauce made from my summer canned tomatoes, and sprinkled with a little extra parmesan cheese to finish it off.  Heaven.  Good thing we were still in our pajamas because sleep wasn't far behind dinner.