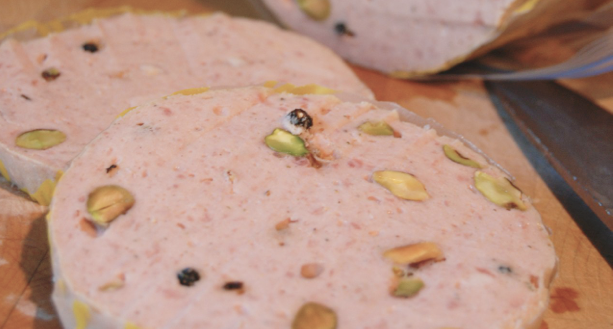 I've been part of this crazy Charcutepalooza group since January 2011, where we work our way through Michael Ruhlman's "Charcuterie" book, one challenge a month. So far we've made duck ham, bacon, corned beef, chorizo, chicken sausage and mortadella. Being part of this blogging community has been great. In truth, this experience finally pushed me into starting a blog. I've had so much fun doing the challenge, documenting it and tweeting about it, that I had to do more. Let's face it, tweets are not enough!
Last months challenge was mortadella. As I've often tweeted, I really find sausage casings to be disgusting. And this called for a cow middle or bung. Yuck. I did order one from the sausage supply place, but the eew factor was to much for me. So I copped out an used the paper casing instead. Fabulous!
The process of grinding, emulsifying and stuffing the sausage took a while, but worked perfectly. I doubled up on the pistachios, which I love, and added peppercorns and back fat to the prepared mouse. Stuffing it without air holes was challenging, but I later discovered that if there was a hole, it filled with a lovely meaty gelatin. Then I poached if for 2 1/2 hours. By this time, it was midnight, so I put it in an ice bath in the fridge and went to bed.
The results were amazing! My freezer is quite full of various processed meats now, which may take me 6 months to eat, but the payoff in eating and cooking is totally worth it.