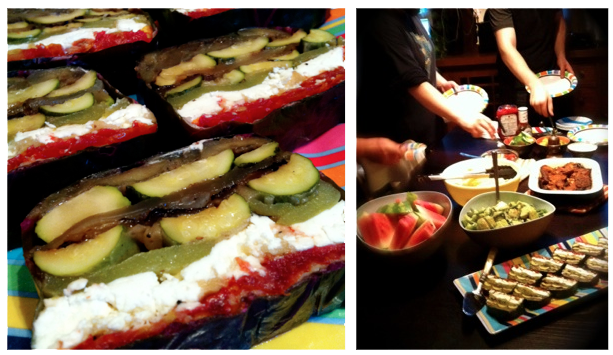 I was a little late doing my Charcutepalooza challenge last month.  The assignment was to make either headcheese or a seafood terrine.  It was ridiculously hot and humid in July, so I couldn't bring myself to boil pigs feet for hours on end, no matter how tasty the result.And while the seafood terrine looked fantastic, I just ran out of time.  But lucky for me, my Southside Star community garden is a veggie supermarket at the moment, brimming with producer that's perfect for a grilled vegetable terrine.  And since I was hosting a mid-week party for my staff at my house, I had lots of people to share it with.
I used the terrine recipe from Michael Ruhlman's Charcuterie cookbook.  I picked fresh eggplant, zucchini, bell peppers, roma tomatoes, green beans and swiss chard from my garden along with some onions that I harvested in early July.  I fired up my little cast iron hibachi grill.  I sliced the eggplant and zucchini in thin strips, quarter the onions and separated the leaves and halved the tomatoes.  I tossed everything with a little olive oil, salt and pepper, then grilled them.  I also put the peppers on and charred the skins.  Since the party wasn't for several days, I put everything in the fridge for later.  
The night before the party I blanch some big red and yellow chard leaves, then prepared a very flavorful vinaigrette with a little gelatin as a binder. With two 3x3x5 mini loaf pans lined with plastic wrap, I laid strips of swiss chard width-wise, leaving enough hanging over to enclose the finished terrine.  I layered all the vegetables into the pans, brushing each layer with vinaigrette.  Near the top I added softened goat cheese, topping with a few more veggie layers. Finally I folded the swiss chard over the top, followed by plastic wrap.  
This terrine was a great hit!  There was not a single piece left on the plate.  And it tasted fantastic.  I wish I had leftovers.  I think I need to make another one!