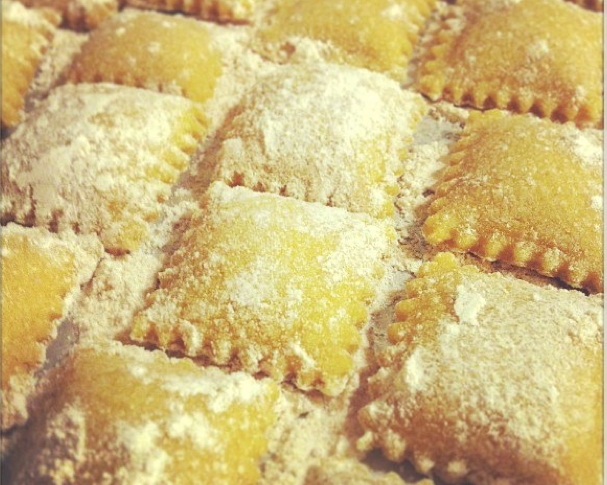 Ingredients:
Ravioli Pasta:
2 cups semolina flour (or all bread flour)
2 cups bread flour
8 large eggs (best you can get)
2 tbs olive oil
Ravioli Filling:
1/2 batch garlic sausage
1/2 onion, minced
3/4 cup fresh ricotta cheese (see my link for homemade ricotta here!)
1 egg
1/4 c grated parmesan
1/4 c grated Romano
salt & pepper to taste
Rustic Tomato Sauce:
2 quarts tomatoes (preferably home-canned)
1/2 onion
1 carrot
1 celery stalk
2 gloves garlic
3 tbs olive oil
1 tsp oregano
salt and pepper to taste
Instructions:
For the pasta, mix flours and olive oil with your fingers until crumbly and oil is distributed. Make a well and crack in the eggs. Beat eggs with a fork, then stir into the flour mixture. Pasta will be stiff. If to stiff, add a few tablespoons of water. Gather dough together and kneed several minutes until smooth. Wrap in plastic and let rest for at least 20 minutes or in the refrigerator up to a day ahead.
For the filling, sauté onion in a little olive oil until soft. Add garlic sausage and cook through. Add cooked sausage mixture to a food processor and process until very fine. Cool. Blend in fresh ricotta and egg and season with salt and pepper. Refrigerate until ready to use.
For sauce, mince the vegetables and sauté in olive oil until soft. Add oregano and tomatoes. Simmer until thick about 1 hour. Season to taste with salt and pepper. May be made ahead and heated before serving.
For the ravioli, roll out the pasta dough out on a well floured table in a big circle, as thin as you can get it without it tearing, about 2 feet around or bigger. Spread a 1/3″ layer of filling over half of the dough, leaving a 1/2″ edge clear. Brush with water or egg wash. Fold the pasta over top of the filling, gently pressing out the air pockets and sealing the edges, like a giant calzone. With a ravioli roller or chopstick, press out a grid pattern on your pasta dough making your squares about 1″ square. Press firmly, but not so hard that you tear the dough. With a zigzag ravioli cutter, cut out your squares and transfer them to floured cookie sheets to dry slightly. Makes about 100 ravioli.
To cook the ravioli, bring a big pot of water to boil. Turn down to a simmer and add about 25 ravioli at a time. Cook for 7-8 minutes, depending on how thin your pasta ended up. Thicker pasta takes a bit longer to cook. Test it about 5 minutes. I like it just past al dente for ravioli. Do not boil the water or your ravioli will burst! When done, toss with a little olive oil while you cook the rest.
To serve, place a handful of ravioli in each shallow bowl. Spoon sauce over ravioli and sprinkle with parmesan cheese and a grind of black pepper.
Ravioli are perfect for the freezer! Place them in a single layer on a tray and freeze. Once frozen, load them into a ziplock bag with as much air removed as possible. Cook directly from freezer into simmering water without thawing. May take an extra minute to cook. They are the perfect weeknight dinner.