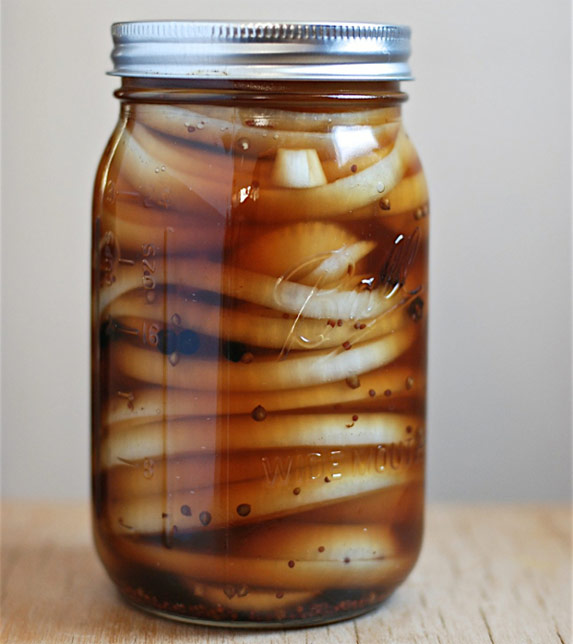 What do you pickle in the middle of winter?  As I stare at the snow drifts out the kitchen window, I find I am at a real loss for something seasonal to pickle.  I have loads of pickled cucumbers and okra in the cupboard, but they have a deeper, almost aged flavor.  I want something fresh and bright, but not if the produce is shipped from 5000 miles away.  That's a rather tall order in Minnesota.
Inspiration came in a bottle.  We recently finished a batch of oatmeal stout beer that, to our house brewmaster's taste, was not up to par.  I didn't think it was bad, just not as good as other batches he's made.  What the heck are we going to do with 96 bottles of beer (on the wall)? I can cook with it, make some bread and some stout beer mustard.  But could I pickle with beer? And just what produce could I utilize?
With a little research, I discovered that both Danish and British cooks have beer pickled vegetables, particularly onions.  Perfect!  Locally raised Midwest storage onions are still plentiful in our markets.  Combined with our house oatmeal stout, vinegar and spices, these refrigerator pickles will be a great complement to my winter pantry.  I plan to eat them with my Sunday stout braised pork shoulder and rice.  Delicious.