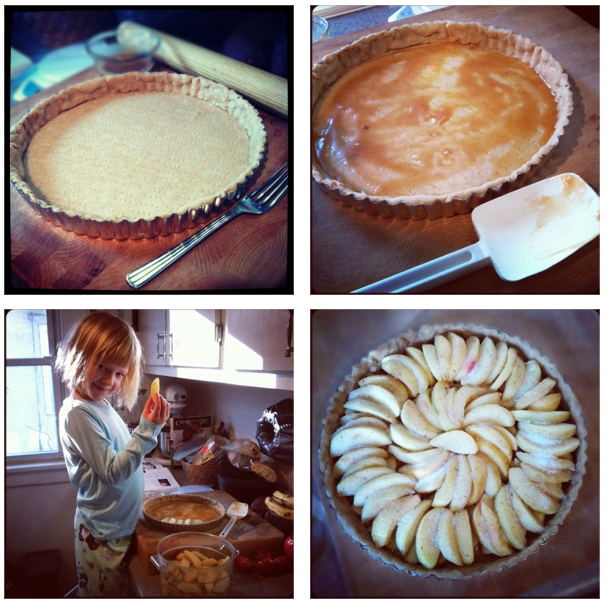 I was not in charge of the Thanksgiving holiday dinner this year.  That wonderful job was left up to my friends Christopher & Mehgan, who hosted a 30 person, friends and family gathering at their little house in South Minneapolis.  Their table spanned the length of two rooms, plus a kid's table.  It was wonderful.  My contribution to the Thanksgiving feast was sliced bresaola, tomato jam and goat cheese toasts, and apple tart.  The tart was a last minute request by my daughter Claire, who wanted something she could help make and eat at the party.  My usual pie is the one my mother makes; deep dish apple pie, loaded with brown sugar and cinnamon between two golden crusts.
I've been on a French bender of late so I aimed for an apple tart instead.  The one thing I dislike about traditional apple pie is the juice which has to be thickened with flour or other starch.  To avoid that in my tart, I choose to sauté my apples before hand, condensing their flavor and the juices.  I also made an apple carmel with hard cider, vanilla, and ceylon and mexican cinnamon.  I coated the bottom of my tart shell with it, an idea Julia Childs gave me with her constant use of apricot jam in the bottom of her tart recipes.  The crust came from the Ratio app by Michael Ruhlman, a liberating little app that continues to inspire my baking and cooking, allowing me to make up recipes on the fly.  Claire helped me artfully arrange all the apple slices in the tart and sprinkled them with sugar.
The result was surprising light and intensely apple flavored tart.  Of course the scoop of vanilla ice cream didn't hurt either.  The tart was gone in 5 minutes flat when requests for after turkey dessert went out.  That's the best complement I could have.