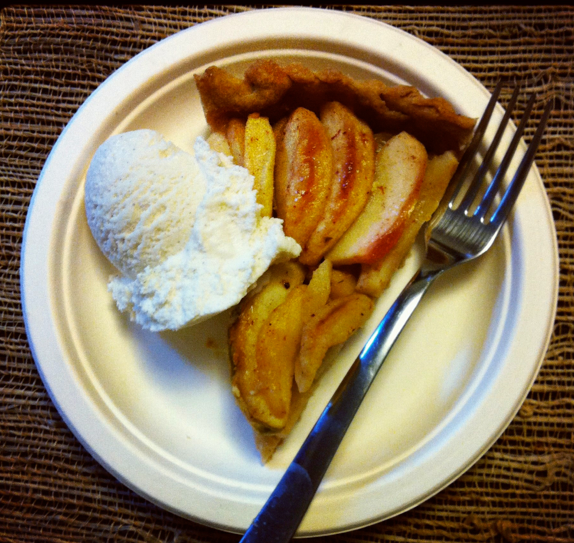 Ingredients:
8 large apples (I used Granny Smiths & Haralsons)
6 tbs butter
1/2 tsp ceylon cinnamon, plus a stick
1/2 tsp mexican cinnamon, plus a stick
1 tsp vanilla
2 cups hard cider or apple cider
pinch of salt
1/4-1/2 cup sugar
9" unbaked tart shell
Instructions:
Peel and slice the apples into 1/3" thick slices. Melt 4 tbs butter in a big sauté pan.  Add apples, ground cinnamons (I ground mine fresh in the coffee grinder), and cinnamon sticks.  Saute apples until tender crisp.  You don't want them soft or your tart will be mush.  You can do this part the night before and put this in the fridge.  
Remove the cinnamon sticks and return them to the pan along with the hard cider, vanilla and a pinch of salt to deglaze the pan.  Reduce the cider to a syrup, just like you would for a wine sauce.  When it starts to look thick, reduce the heat and add the remaining 2 tablespoons of butter.  Swirl to combine.  It should look like a nice thick sauce, but really it's a loose carmel.  You'll only have about 1/4 cup or less.  Set aside in a bowl.  Again, this can be done the night before.
 To assemble your tart, preheat the oven to 425 degrees.  Roll out your tart dough and fill your tart mold.  Prick the bottom of the dough with a fork, then spread on your carmel.  Arrange the apple slices in a pretty pattern, making multiple layers.  Sprinkle sugar on each layer.  Amount of sugar depends on how tart your apples are.  I used about 1/4 cup.  Probably could have used a little more.  Bake the tart for 30-40 minutes in the middle of your oven.  Sprinkle with a little extra sugar when you take it out so it sparkles.  Cool on a rack.  And enjoy!