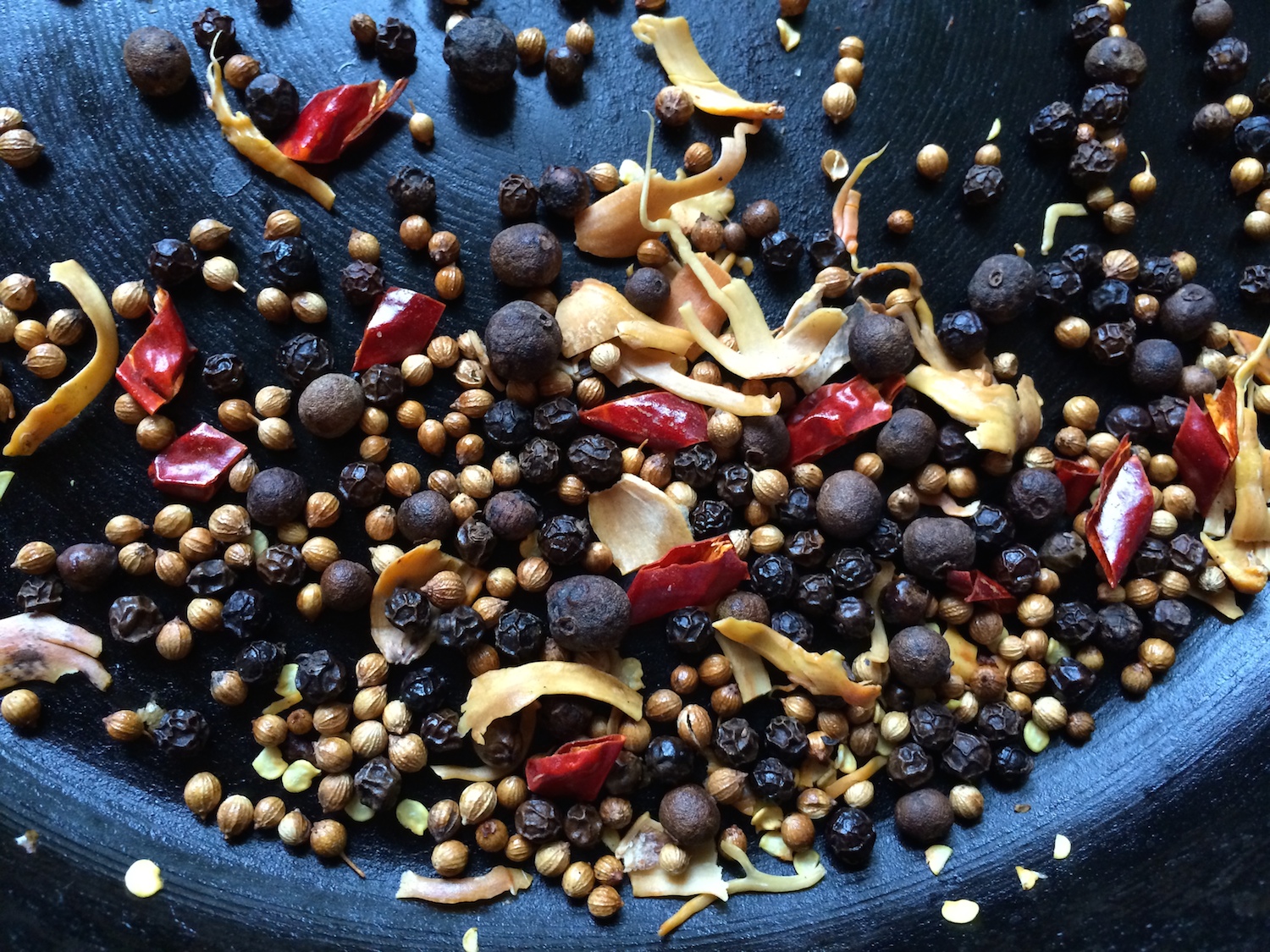 Adapted from Charucterie by Michael Rhulman & Michael Polcyn
Ingredients:
1 whole mace shell
1 tbs whole coriander
2 whole dried cayenne chiles
1 tbs smoked paprika
1 tsp whole allspice berries
1 tbs whole black pepper
1/4 c coarse kosher salt
1/4 c sugar
1/4 c maple syrup
2 tsp pink curing salt #1
5 lb fresh pork belly, skin on or off
Instructions:
In a dry pan toast the peppercorns, allspice, coriander, crumbled mace and chiles until fragrant. Crush spices lightly with a rolling pin or mortar and pestle.
Combine all dry ingredients in a bowl except maple syrup and pork belly.  Place the belly in a 2 gallon ziplock bag or a non-reactive, close-fitting container, and rub the cure over all surfaces of the belly.  Add the maple syrup.  Seal the bag or tightly cover the container, and refrigerate for seven days, flipping the belly daily to distribute the resulting brine.  
After a week, remove belly from the brine and rinse.  It's spices still cling to the belly.
Fire up your smoker.  Your smoker temp should hang around 250 degrees.  Hot smoke the bacon with some apple wood until the internal temperature reaches 140 degrees.  
If you don't have time to spend several hours tending a smoker, bake the belly in the oven.  Preheat the oven to 250 and bake on a rack over a sheet tray until the bacon reaches 140 degrees internal temp.
Once your bacon is finished cooking, divide it into one pound blocks to either be sliced for frying or left whole for chunks or lardons.  I leave one pound in the fridge and wrap the rest in parchment, then foil and freeze until I need it.  If you plan on slicing it, I suggest you do in while the bacon is still warm because it's quite stiff when cold.
This bacon fries up beautifully with cabbage and onions for a nice side dish.  I plan to put some in my holiday stuffing this year.  Bacon, it's not just for breakfast!