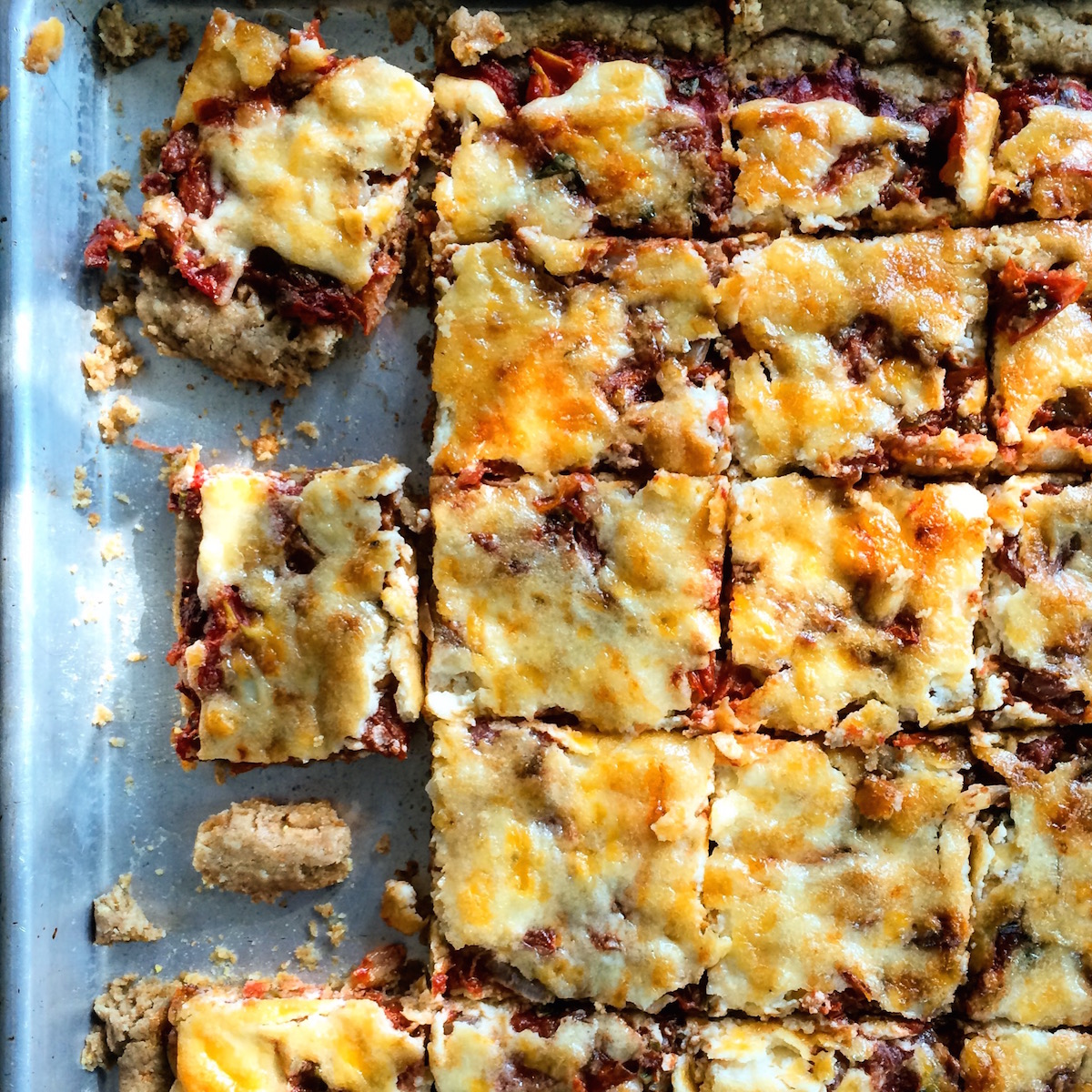 Ingredients:
Pie Filling:
8 c diced beefsteak tomatoes (heirlooms really shine here) or drained canned diced tomatoes
6 c diced roma or paste tomatoes
or 4 cups drained diced fire roasted canned tomatoes (I like Muir Glen Organic)
1/4 c fresh thyme, chopped
2 onions
4 cloves garlic
1/4 c fresh parsley, chopped
2 tsp kosher salt
2 tsp fresh ground pepper
1 tbs sugar
olive oil
Pie Topping:
1 c grated Monterey Jack cheese
1 c grated Monchego cheese
1 c mayonaise
salt
tabasco sauce
Instructions:
Start with the pie crust-I use my cornmeal crust or use your favorite double pie crust.  I like to make this in a half sheet pan, but it will also work well in two 9″ flat tart pans.  Roll the crust out, poke it all over with a fork and blind bake it at 375 degrees in the middle rack of the oven for 20 minutes.  Set aside to cool.  This is great to make the day before.
Prep the tomatoes.  Seed and dice the beefsteak tomatoes and place them in a colander to drain for at least an hour, or overnight in the fridge. Catch the juice – it's excellent to drink fresh.  Same goes for the canned tomatoes.
Seed and dice the roma/paste tomatoes. Paste-type tomatoes are usually pretty dry, but if the tomatoes are juicy, drain them for 10 minutes.  If using canned, drain the fire roasted tomatoes.  
Thinly slice the onions and mince the garlic.  Chopped the fresh thyme.  Toss the tomatoes, onions, garlic and thyme in a generous glug of olive oil and then spread them out on two sheet pans.  Don't over crowd them or they won't roast, they will steam.  Roast in the oven at 375 degrees for 45-60 minutes on the upper two racks of the oven, swapping the pans half way through, until the veggies are dry and lightly browned.  Leave the oven on if baking the pie next.
Combine cheeses and mayo, add salt and tabasco to taste.  I like a couple big dashes of tabasco as it lifts the flavor, but make it as spicy as you like or omit.  Set aside.
Combine fresh drained tomatoes with the roasted tomatoes, onions and garlic, and chopped parsley. Add salt, pepper and sugar.  This is a highly seasoned pie, as it's typically served at room temp or chilled, which requires more seasonings.  Spread mixture in an even layer across the bottom of your pie crust.  Dollop the cheese topping on the pie carefully spreading it out, trying not to mix it with the tomatoes below.
Bake the pie at 375 degrees on the top rack of the oven for 30+ minutes until the top is lightly browned.  Cool to room temp before serving, or chill completely.  Slice into squares.