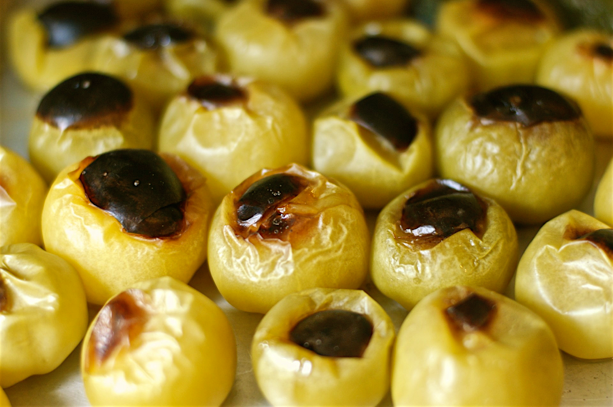 Ingredients:
4 lbs tomatillos
3/4 lb green sweet peppers
3/4 lb hot green chiles
1/4 lb onion
1 head garlic, cloves peeled
2 tbs ground coriander seed
2 1/2 tsp salt
1 c apple cider vinegar
Instructions:
Prepare 5-6 pint jars and lids in a hot water bath.  Lay all your vegetables on a baking sheet and roast them under the broiler until their skin is charred.  Flip the vegetables and roast on the opposite side.  Add all the roasted vegetables, coriander, salt and vinegar to a food processor or blender, and blend to desired consistency (I like mine smooth.)
Add the salsa to a pan and bring to a simmer for 10 minutes, stirring occasionally.  Ladle hot salsa into clean, hot pint jars, leaving 1/2" headspace.  Wipe the rims and add the lids.  Process in a boiling water bath for 15 minutes at a full rolling boil. Yields 5-6 pints.