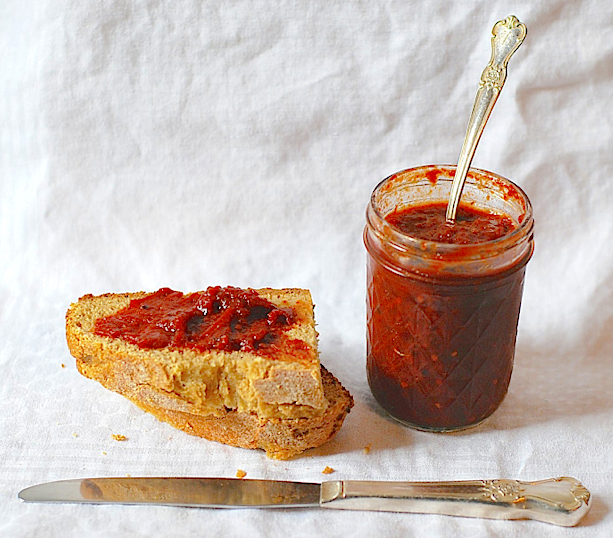 Ingredients:
12 lbs heirloom tomatoes
3.5 c raw sugar
1 c fresh lime juice
2.5 tbs ground cumin
5 tbs smoked paprika
1 tsp cayenne pepper
1 tbs kosher salt
Instructions:
Prepare 12-14 half pint jars and lids in a hot water bath.  Lay all your tomatoes on a baking sheet and roast them under the broiler until their skin is charred.  Blend them in a food processor until chunky.  Add the tomatoes and all remaining ingredients to a pan.  Bring to a boil then simmer on low until the mixture becomes a jam-like consistency.  It takes about an hour.  Stir occasionally, especially as it begins to thicken to prevent scorching on the bottom of the pot.  You don't want it THAT smoky!
Ladle hot jam into clean, hot half pint jars, leaving 1/2" headspace.  Wipe the rims and add the lids.  Process in a boiling water bath for 15 minutes at a full rolling boil. Yields 12-14 half pints.