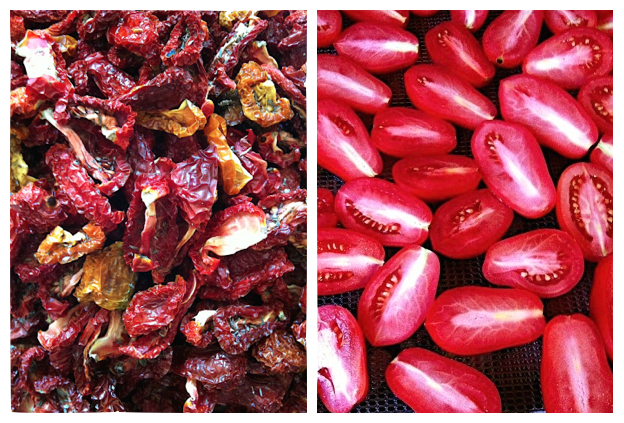 Ingredients:
tomatoes
herbs such as thyme, oregano, basil, tarragon, marjoram, chives, parsley, mint, fresh chopped or dried
kosher salt
black pepper
sugar
Instructions:
Wash tomatoes well and pat dry.  Slice small plum tomatoes in half, small salad tomatoes in quarters and larger tomatoes into half inch slices.  Place on a single layer on a dehydrating mat or on parchment paper on a cookie sheet.  Sprinkle with a little salt, pepper and sugar (if they are not already sweet tomatoes) and your choice of herbs, fresh chopped or dried.
Place in the dehydrator at 115 degrees for 24-48 hours.  I like my tomatoes very dry, but you can do them slightly  leathery as well.  If you don't have a dehydrator, place them in your oven set to the lowest temp, with the door left ajar.  They will potentially dry faster at the higher temp in the oven.  I leave them overnight to start, then see how it goes.  Store in ziplock bags or sealed jars, in a cool, dark place.  To use, rehydrate the tomatoes by covering them with boiling water, letting them soak for a few minutes until plump.