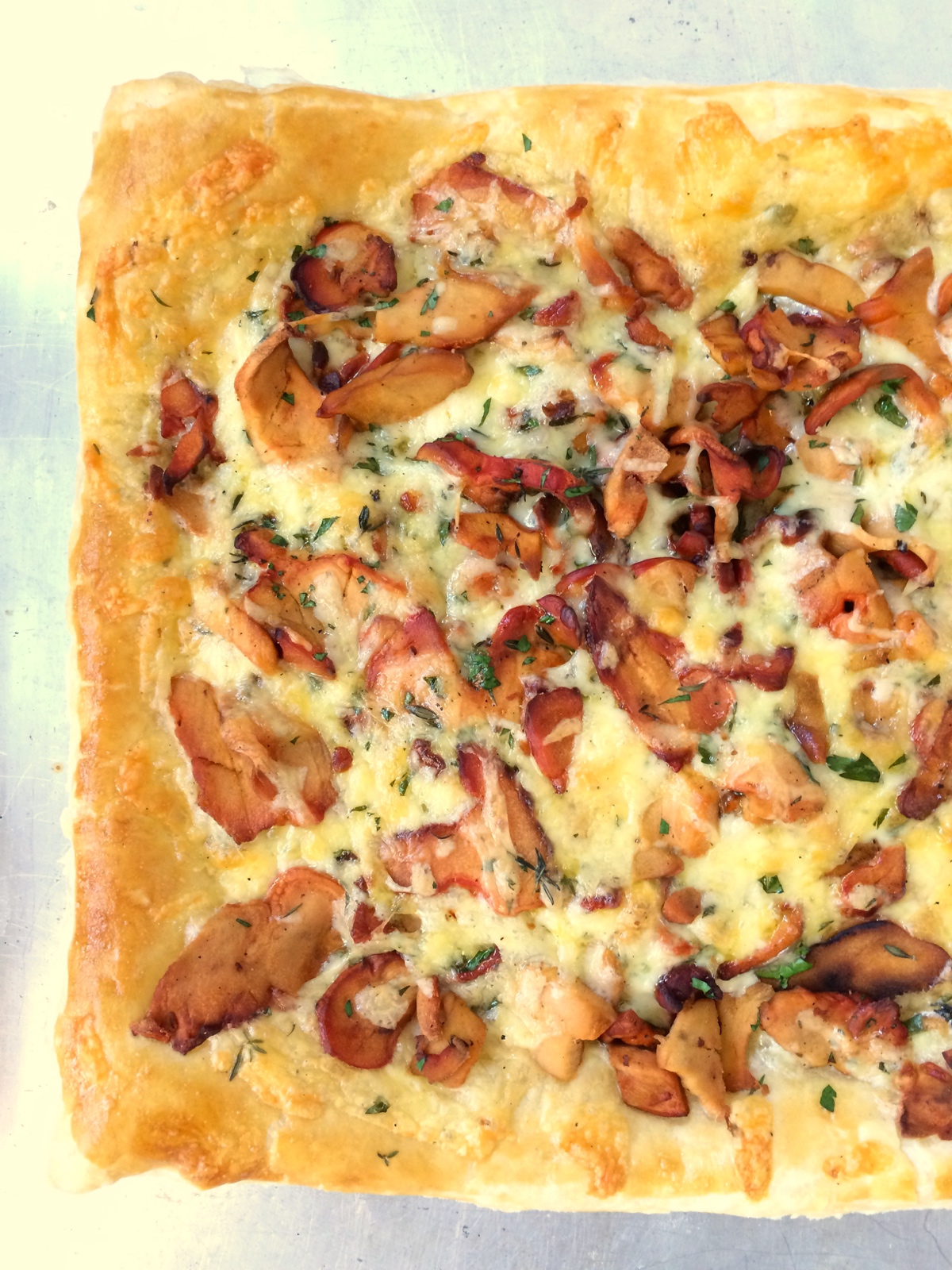 Ingredients:
1 lb fresh wild mushrooms (cultivated may also be used), sliced
1 tbs fresh thyme leaves
1 clove garlic, minced
2 tbs fresh parsley, chopped
1/4 c butter or olive oil
salt and pepper
8 oz fontina cheese, grated
2 sheets puff pastry (yep, I bought some)
1 egg, beaten
Instructions:
For this recipe I used Chicken of the Woods mushrooms that we foraged, but this recipe will work with any kind of mushroom, from oysters, chanterelles, morels, porcini, Hen of the Woods, etc whether you forage them or buy cultivated ones from the market.
Before you begin your mushrooms, preheat the oven to 450 degrees.  Take the puff pastry out of the freezer to thaw.  Do not thaw for more than 40 minutes–store in the fridge if you go past that as the butter in the dough should remain cold.
Slice the mushrooms into 1/4 inch slices.  Melt the butter in a wide sauté pan over medium high heat. Add the garlic, thyme and mushrooms.  Sauté until mushrooms are cooked through and soft.  Remove from heat and add the parsley.  Salt and pepper to taste.
On two lightly greased baking sheets, unroll the puff pastry squares.  Brush the dough with beaten egg.  Sprinkle each square with a 1/4 of the fontina cheese.  Divide the mushroom mixture in half and strew over the puff pastry leaving 1/2″ of edge clear of filling.  Sprinkle with the remaining cheese.
Bake one sheet pan at a time on the 2nd from the top rack in the oven.  Store the other tart in the fridge while it bakes.  Bake for 20-25 minutes, or when the crust is puffed and well-browned.
Makes 2 12″ tarts.  8-12 servings depending on whether it's an appetizer or entree.