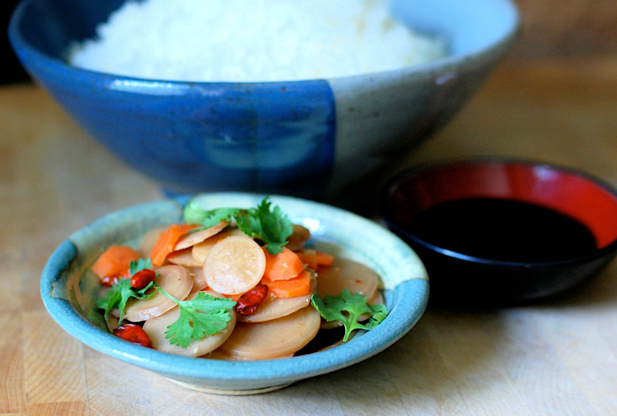 Ingredients:
8 medium turnips
1 bunch red radishes
4 large carrots
3 tbs salt
2 quarts water
1 large onion or 1 bunch green onions
4 tbs grated ginger
4 tbs minced garlic
3 tbs ancho chili power
1 tbs red pepper flakes
1 tbs pequin bird chiles
1 tbs fish sauce
Instructions:
Thinly slice root vegetables into rounds. I like to use a mandolin, but a food processor slicer would also work well. Combine salt and water, and pour over the veggies. Let sit over night in the brine on the counter. The next morning, drain off the brine, reserving it for topping off the jars. In a large bowl, combine root vegetables, thinly sliced onions, ginger, garlic, and chiles. Pack into two quart jars or one half gallon jar. Top with brine. Vegetables should be completely submerged. Fill a plastic ziplock bag with water to further press the veggies down into the brine. Cover top loosely with a two piece canning jar, or cheese cloth. The mixture should begin bubbling within a day, so you need to let the gasses escape. Let mixture ferment for about 1 week on the counter top. Check seasonings and adjust to taste. Turnips should have a nice salty-sour taste. Add the fish sauce. Top with a lid and refrigerate for slower fermentation. Use as needed. It will last in the fridge for a very very long time.