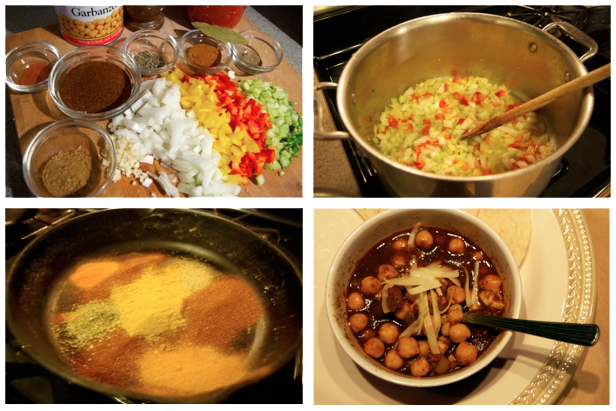 Ingredients:
1/4 cup ancho chili powder
1 tsp marjoram
1.5 tsp paprika
1 tbs cumin
1/2 tsp black pepper
1/4 tsp cayenne
1/4 cup bacon drippings
1 jalapeno pepper, minced
3 cloves garlic, minced
1 onion, chopped
1 bell pepper, chopped
1 stalk celery, chopped
3 cups homemade stock (I used pork)
1 quart crushed tomatoes
1 tsp Tabasco sauce
1 bay leaf
1.5 tsp Worcestershire sauce
2 cups canned chick peas, drained
2 cups frozen corn
salt to taste
Instructions:
Assemble the spice mixture. Toast in a dry skillet until you can smell it, but don't let it burn. Set aside, separating at least a tablespoon out for the later. In a pot saute the vegetables in the bacon fat. When they are soft and slightly brown, season with salt, add the spices, broth, hot sauce, bay leaf, Worcestershire and tomatoes. Simmer for 1 hour, uncovered.
After the sauce has cooked, combine the reserved spices, chick peas and corn. Check the seasonings, adding additional salt and cayenne if needed. Bring to a boil, then simmer for 20 minutes more. Serve with a little shredded cheese on top. This is a very flexible chili base that can use more veggies like zucchini, pumpkin, and eggplant, as well as different beans and cooked meat. If you want an all meat version, use the original!