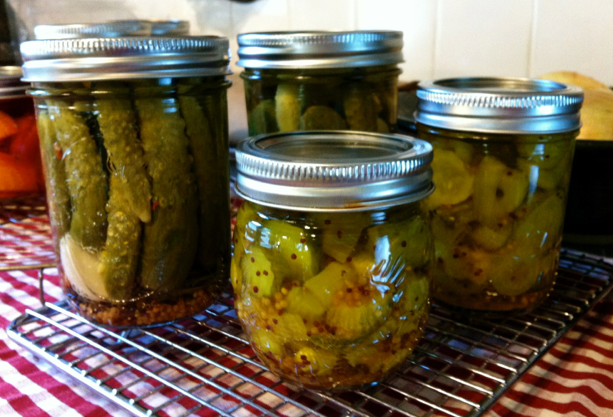 Ingredients:
4 cups small pickling cucumbers
1 cup white vinegar
1 cup water
1.5 tbs kosher salt
4 heads fresh dill
1 tsp yellow mustard seeds
1 tsp brown mustard seeds
1 tsp red pepper flakes or 2 small dried red chilies
2 cloves garlic, peeled
Instructions:
Fill a pot large enough to submerge two pint jars with water and bring to a boil. Pack 2 sterilized pint jars with 2 heads dill, 1/2 tsp each yellow & brown mustard seeds, 1/2 tsp red pepper flakes, one clove garlic and cucumbers as tightly as possible. Bring vinegar, water and salt to a boil. Fill pint jars within 1/2 inch of the top. Wipe rims and seal with hot lids. Process in boiling water for 10 minutes.