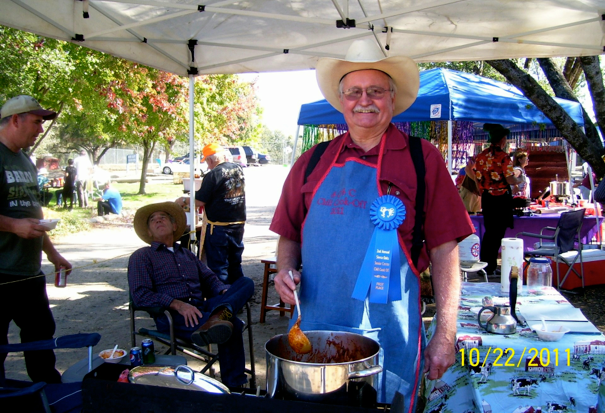 Ingredients:
Spice Mix #1
1/4 tsp jalapeno powder
1 1/2 tbs onion powder
1 1/2 tsp garlic powder
2 tbs chili powder
1 tsp Creole seasoning
Spice Mix #2
6 tbs chili powder
1/2 tsp Mexican oregano
1/2 tsp marjoram
1 tbs paprika
1 tbs cumin
1/2 tsp black pepper
1/2 tsp white pepper
1/2 tsp cayenne
1 bay leaf
Spice Mix #3
1 tbs ancho chili powder
1/2 tsp cayenne pepper
1 tbs cumin
1/2 tsp garlic powder
5 lbs beef chuck or sirloin tri-tip cut into 3/4" cubes
1/2 cup bacon drippings
2 quarts homemade chicken stock
1 tsp red Tabasco sauce
1 tsp green Tabasco sauce
2 pints homemade salsa
2 quarts homemade tomato sauce
2 quarts homemade beef stock
1 tbs Worcestershire sauce
salt to taste
1 tsp brown sugar
Instructions:
Recipe takes about 2.5hrs to cook, most of it in-active. Assemble the 3 spice mixtures in separate small bowls and set aside. For the chili meat: In a skillet, brown the meat in batches, using the bacon fat. As each batch cooks, sprinkle with the spice blend #1. Add the meat to a large pot, along with the chicken broth, hot sauces and salsa. Bring to a boil, cover and cook over medium-low heat, adding water as needed, for 1 hour, or until the meat is almost tender.
While the meat is cooking, combine all of spice combo #2 with the tomato sauce, 1/2 of beef broth, Worcestershire sauce and enough of the remaining beef broth to make a medium-thick sauce in a saucepan. Bring to a boil, stirring constantly. Reduce heat and simmer for 5 minutes. Cover and remove from the heat.
After the meat has cooked, add the contents of saucepan to the chili pot. Bring to a boil, stir, the turn off the heat and let the pot rest, covered, for about an hour.
Bring the pot back to a boil and add all of spice mix #3. Adjust the consistency of the chili with remaining beef broth, check seasoning for salt and add brown sugar as needed. Cook for 30 minutes longer, stir well and serve. This recipe will make about 2 gallons.