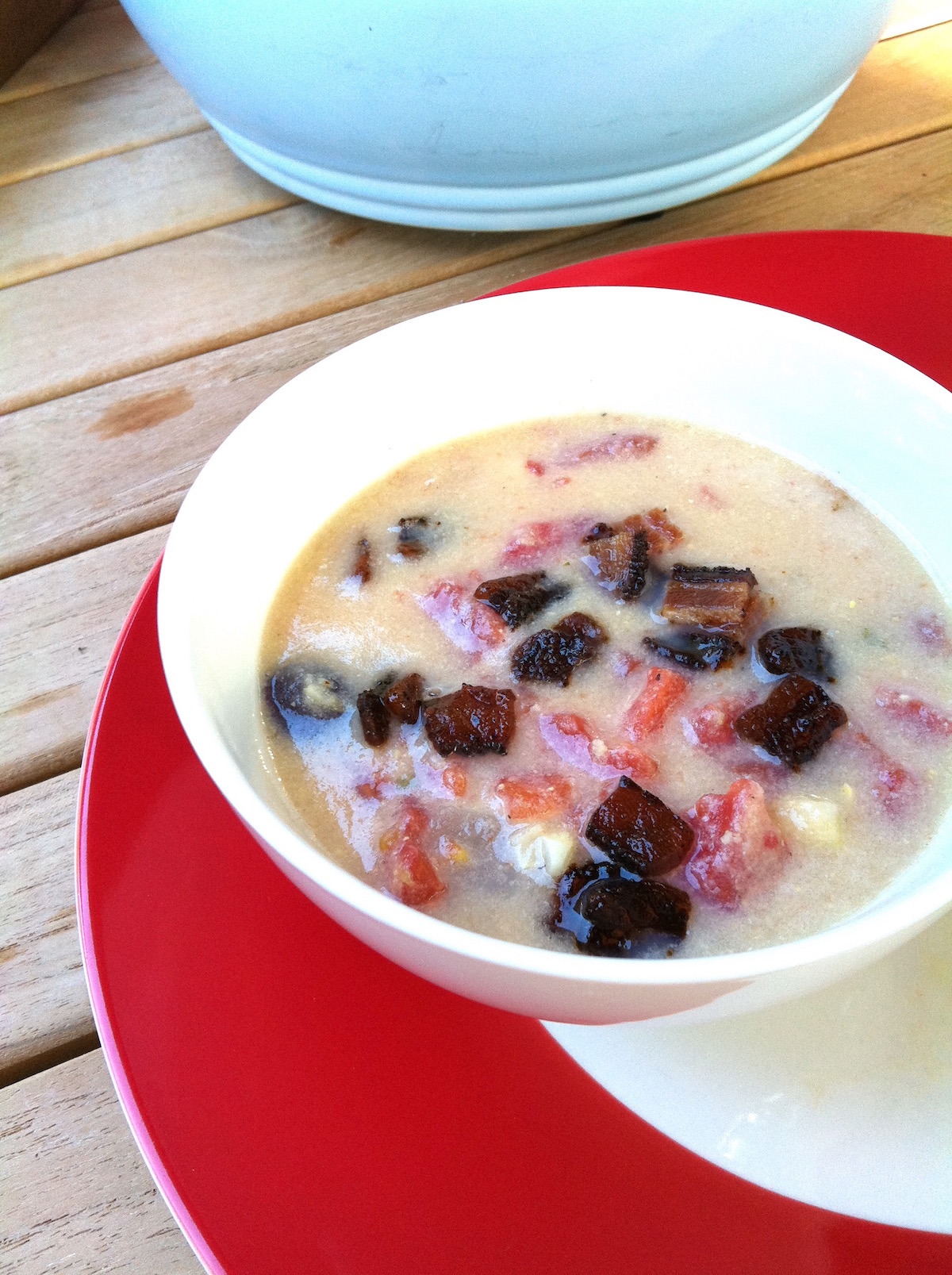 Ingredients:
5 ears corn on the cob
4 cups water
2 cups cubed potatoes
2 large beef steak tomatoes (or two cups drained chopped canned tomatoes)
1 large sweet onion
6 tbs butter
1 tsp sugar
1 tbs herbs
3 strips crispy cooked smoked bacon
salt & pepper
Instructions:
Cut the kernels from the cobs. Break up the cobs and cover with 4 cups of water. Simmer cobs for 20 minutes while prepping the other ingredients. Peel, seed and chop the tomatoes. (If using canned, I love to use the fire roasted ones.) With large tomatoes I sometimes just use a peeler. Set aside. If using russet potatoes, peel and cube. Thin skinned potatoes can just be cubed. I used both. Drain the corn broth from the cobs, return broth to the pan and add the potatoes. Simmer for 15 minutes until potatoes are tender. Meanwhile, saute onions in butter until soft. Drain the potatoes and set aside, returning broth to the pot. Add all but 1 1/2 cups of corn kernels along with the onions and sugar. Simmer for 10 minutes. Season with salt and pepper. Blend the corn mixture in a batches in a blender until smooth. Add remaining corn and potatoes, simmer for 5 minutes until corn is tender. Add chopped tomatoes, herbs (I used chopped basil) and simmer for 1 more minute. Adjust seasoning. Serve with cooked crumbled bacon on top.