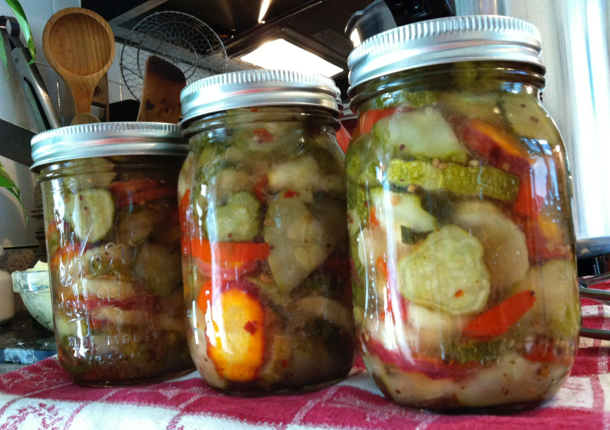 Ingredients:
3 lbs zucchini, cucumber & carrots combined
1 red bell pepper
1 garlic clove, minced
2 c white vinegar
1" piece ginger, grated
1 1/3rd c white sugar
1 tsp brown mustard seed
1 tsp yellow mustard seed
1 tbs salt
2 tsp horseradish mustard
1 tsp red chili flakes
Instructions:
Slice all the vegetables uniformly. I used a fun zigzag slicer. Have your boiling water bath, pint or 1/2 pint jars and lids hot and standing by. Combine all ingredients in a pot and bring to a simmer. Ladle hot vegetables into jars, topping off with brine. Remove any air bubbles. Wipe the rims with a clean towel dipped in hot water. Screw on lids and process pints for 10 minutes.