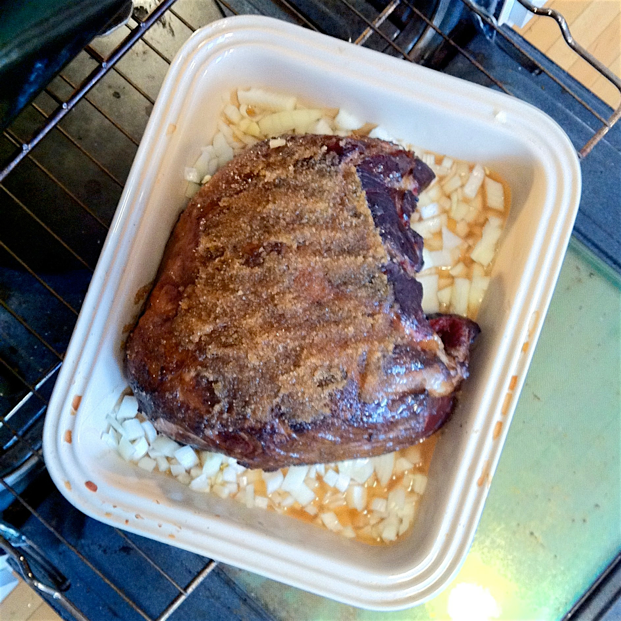 Ingredients:
1 gallon water
1.5 cups kosher salt
1 cup blackstrap molasses
1 cup packed dark brown sugar
1.5 ounces pink salt (sodium nitrite)
1 tbs fresh ginger
1 tbs juniper berries
1 tsp red pepper flakes
1 tbs coriander seeds
1 tbs whole black peppercorns
1 12-15lb fresh ham (skin and aitch bone removed)
Instructions:
Sodium nitrite can be ordered online from Butcher and Packer for $3.50 a pound, which will last for years used a tsp at a time.
Bring the water to a boil and add the salt, molasses, brown sugar and pink salt, stirring until dissolved. Toast the coriander and peppercorn seeds in a dry skillet, then lightly crush along with the juniper berries. Add the seeds and finely chopped ginger to the brine. Let cool.
Pour the brine into a food-grade plastic container that will fit in your fridge. Add the leg or shoulder, along with the hocks to the bucket. Refrigerate for 1 day for every 2 lbs of meat, removing the hocks after only 2 days. (I admit that I cheated and used our cold Minneapolis weather as my fridge on the back steps.) After about a week, remove the pork, rinse under cold water, then return to the fridge. At this point you can store the uncooked ham and hocks for another week or two before they need to be smoked.
When you're ready to smoke the ham, set it (along with the hocks if you have them) on a rack in the fridge over night to dry. This gives the smoke a good surface to cling to. The next day, fire up your smoker. I used elm and birch wood for the fire and apple wood shavings for the smoke. You can use whatever flavor wood you like for your smoke. Hickory or cherry would be great. Smoke the pork at 225 degrees for 4-8 hours. Be sure your internal temp is at least 155 degree. If you have good smoke penetration, you can finish it in the oven.
At this point you can either eat the ham, or put it in the freezer until you're ready for your next holiday feast. I like to put a brown sugar/butter paste on the top, add a cup or two of apple cider to the pan along with a chopped onion and bake until the sugar is crusty and the internal temp is back up to 160 degrees. Delicious!