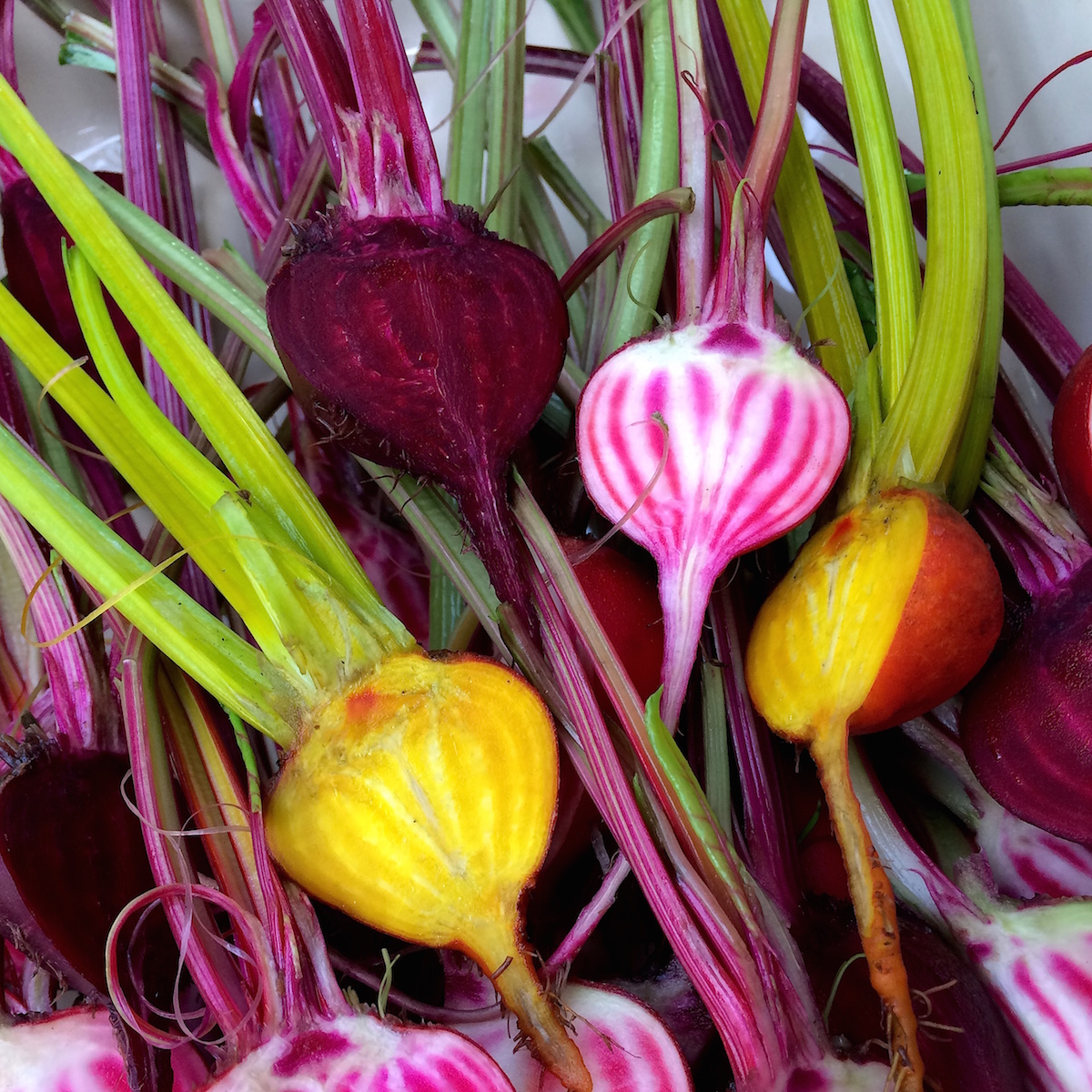 Ingredients:
1 bunch baby beets, about a pound
1 c white wine vinegar
2 tsp kosher salt
2 tbs honey
1 tsp coriander seed
1 tsp mustard seed
1 tsp black peppercorns
water
Instructions:
Golden, chioggia and red beets all work great here.  They will maintain their color if kept separate or turn dark pink if combined with the red beets.
Wash beets well, leaving stems attached.  Remove leaves (save for sautés or salads) and trim stems to desired length.  I left mine long.  If beets are small, around an inch to and inch and a half in diameter, leave them whole.  If larger than that, cut them in halves or quarters, leaving the stems attached.
Bring a small pan of water to a boil.  Blanch beets for 2 minutes for firm beets, 3 minutes for softer beets.  If extra soft beets are desired, I recommend removing the stems as they will get slimy.  Shock the beets in cold water to stop the cooking, and place in a heat-proof container, like a canning jar or other glass container with a lid.
Combine vinegar, salt, honey and spices and bring to a boil.  Pour hot brine over the vegetables and set aside to cool.  If you do not have quite enough brine, add up to 1/2 cup boiling water to cover.  Once cool, store in the refrigerator until ready to eat. 
These beets are only slightly sweet and work well with BBQ, meats, or anywhere pickles are welcomed.  Whole beets with the stems make a lovely accompaniment to a meal.  I also like to chop the beet stems and sprinkle them on eggs and cooked veggies.  Mix them in chicken, tuna or egg salad. They add great color and bright flavor.