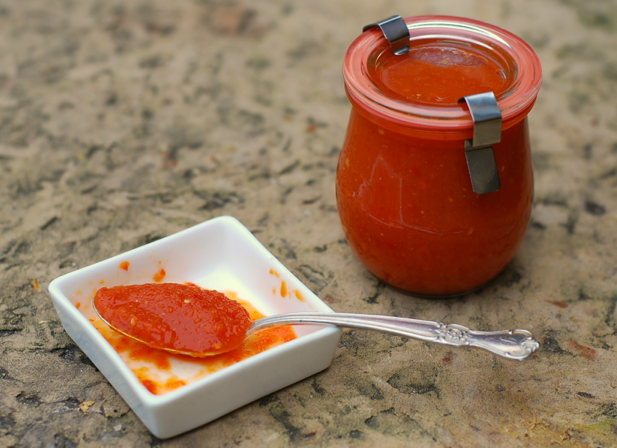 Ingredients:
1 lb ripe habanero peppers
1 head garlic
2.5 tsp salt
4 tbs sugar
2 c apple cider vinegar
Instructions:
It goes without saying that these peppers are HOT.  While I do not use gloves, I very carefully handle them, using a spoon to remove seeds and not touching the knife blade.  Wash the peppers, remove the stems, split in half and scoop out the seeds.  These peppers are plenty hot without the seeds.  Peel the garlic cloves. In a clean jar add all ingredients.  I put the lid on and shake like a cocktail shaker to dissolve the sugar and salt.  Let sit on the counter for a week.
Add the jar contents to a sauce pan and bring to a boil.  Simmer at a low boil for 10 minutes.  Set aside to cool.  When cool enough to handle, blend all ingredients in a blender until smooth.  Return to a clean glass jar and refrigerate. This hot sauce should keep in the fridge for several months.  It is great in chicken and rice, added to marinades and fresh fruity salsas like mango.  My sweetie eats it plain on plantain chips.  Crazy man.