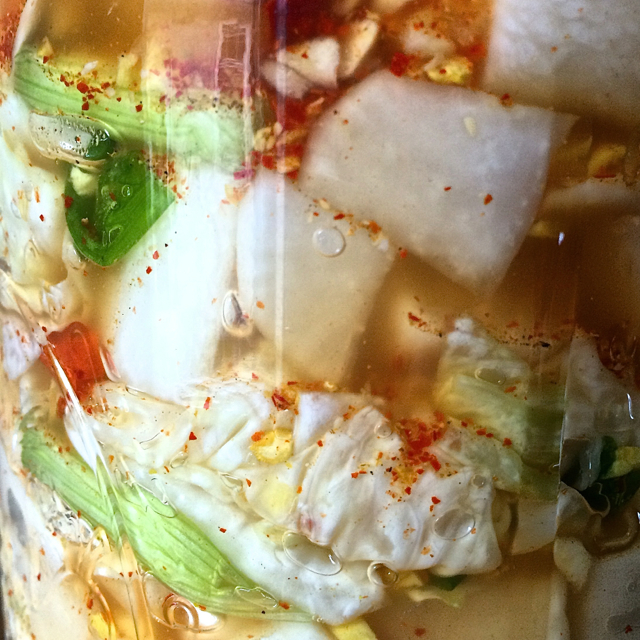 Ingredients:
4 lbs daikon radishes
1 small head cabbage
2 tbs kosher salt
1/3 c sugar
3 tbs fish sauce
8 cloves garlic
1 bunch scallions
1" piece ginger
1/4 c finely crushed Tien Tsin chili peppers, or 1/2 cup crushed red pepper
Instructions:
Peel daikon and cut into bite-sized chunks.  Core and cut cabbage into bite-sized cubes.  Combine daikon, cabbage, salt, sugar and fish sauce in a large bowl and let rest for 30 minutes.  
Cut white and light green parts of scallions into 1" pieces.  Peel ginger.  Finely mince ginger and garlic.  Add scallions, ginger, garlic and Tien Tsin chili peppers to the daikon and cabbage mixture, tossing to combine.
Pack mixture and juice into a 1/2 gallon glass jar.  It should just fit.  If needed, pack excess into another smaller glass jar.  Cover with an airlock-enabled lid, or with plastic wrap sealed with a rubber band.  Let sit at room temperature for 4 days, releasing the pressure daily if using plastic wrap.  Press the mixture down if it rises above the liquid line.
After 4 days, stir the mixture, pack it down, and top with a regular lid.  Store in the refrigerator for at least a week before eating.  Kimchi will easily last six months.  The kimchi will become more sour and hot as time goes on.  Mine barely lasted 2!